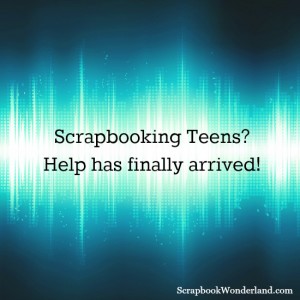 Teenagers! They can be a challenge. This post will show you useful tips to make an important connection with your teen and possibly get  a new perspective on how to scrapbook them.
Before we get started lets take a quick peek at what's new on this Make it Monday!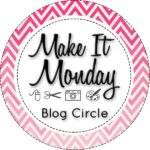 Hi! Welcome to the Make it Monday Blog Circle.
If you've arrived from Clicky Chick Creates you were probably going cuckoo over her Girl Scout banner for cookie sales! (If not don't forget to check it out!) At the end of this post I'll be sure your next stop on the Make it Monday Blog Circle.
---
Back to the problem with teenagers, I mean, the problem with scrapbooking teenagers… 😉
Teenagers can be tough to scrapbook. They tend to avoid photos. They can be a bit moody or emotional. They are busy developing their own style and their independence. They are starting to live a life independently from their parents. (Isn't that scary?! And awesome?!)
Lately I'm seeing that if you are looking, there are signs of love from teens too.
Perhaps it's in them trying to help you with your technology.
Sometimes it's even more blatant, and right in front of you every day, like the topic of this layout I scrapbooked. I can't believe it took me so long to see it!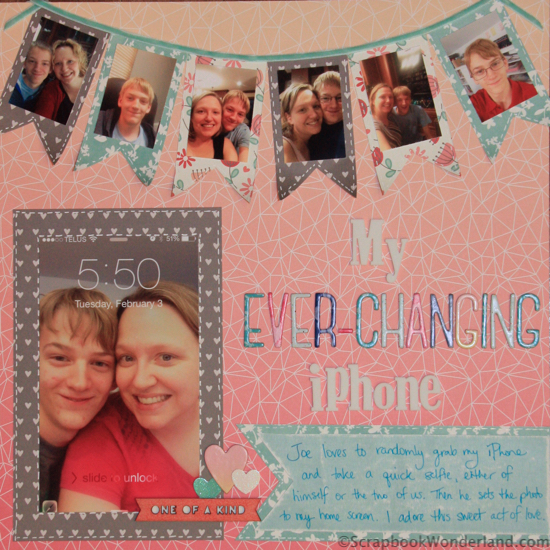 It took me awhile to notice that there was a pattern of my son grabbing my phone and taking a selfie of the two of us and setting it as the home screen on my phone.  Now I'm looking forward to the next impromptu photo shoot, knowing that this is a sign of love from my teenage son.
Quick Design Tips:
Create a banner that features extra photos to embellish your story. If you have a word that you can use design to signify – do it! Changing can have changing letter colours, big can be big in size, red can be red in colour. Be creative and have fun with it!
Signs of Love:
What if your teen isn't grabbing your phone?
You still want to capture their life. As much as your teen may protest by including their life in your scrapbooks you remind them that they are an important part of your life. You don't want to miss out on this part of life just because it isn't easy!
If you want to scrapbook a teen you may need to get a bit creative.
Do they share photos online? Facebook, Instagram, etc. Grab these photos for your layouts.
Do they text you? You can use photos or the text itself on a layout.
Connect with them using technology. If you have a teen then chances are that by now you've realized they know everything. 😉 Ask for their assistance in tackling the tech in your life.
Ask your teen their opinions. Teens generally have plenty of them! Start with simple things like music and food and progress from there.
Listen to their woes and complaints. Not every moment is happy in life. By embracing the tough parts of their life you can meet them on their level.
Accept that any photos you get of your teen will not be perfectly posed with lovely expressions. You may end up with attitude, faces, and more. That's okay! This is part of the teen experience.
Know that if you pull out your camera to photograph your teen you can expect a bit of eye-rolling and disdain. Humour can go a long way to make this work out in your favour!
Share the power. Your teen may be more willing to share details about their life if you give them the veto card. Ask for their permission before you share layouts or photos you create about them with others. Make sure your teen knows that even though you'll continue to create layouts about him/her you'll respect their word on whether or not you share them.
Don't forget that scrapbooking your teen's life is a way that you show them affection. Don't give up! As much as a teen will push away they want to know that you love them and care about their life.
Related Posts:
If you like this post try these posts for more inspiration that will help you scrapbook your teens.
---

Make it Monday
Expect the unexpected… (I've kind of always hated that saying. How is it even possible?) Melissa is sharing an anniversary layout with a twist. It's not what you'd expect! Check it out on Digital Scrapbooking HQ
Let your creativity shine!
Alice.