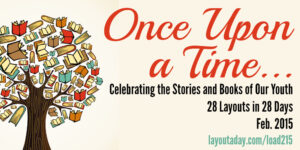 Hooray! I'm the featured scrapper on LOAD215 again today!
(Did you miss the last one? It was all about imagining ourselves as the main character in a childhood book, so my page was about Nancy Drew! Click here to check it out!)
Today's Prompt:
Get inspired by One Fish, Two Fish, Red Fish, Blue Fish. Use rhyming for your journaling.
Day 11
I certainly don't consider myself to be a poet, but I had fun writing this simple poem about my adorable niece. By making the photo very large and cutting it out the focus is directed right on my niece. Her gaze is towards the journaling which I popped it up for extra impact. I love adding small details like the hexagonal texture at the bottom of the page and the bee in the center of the flower.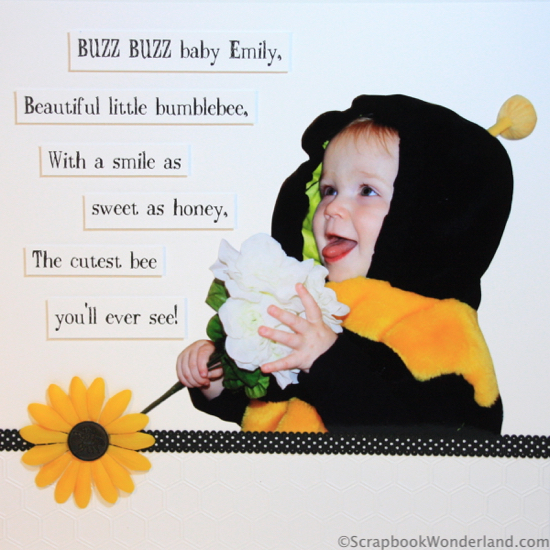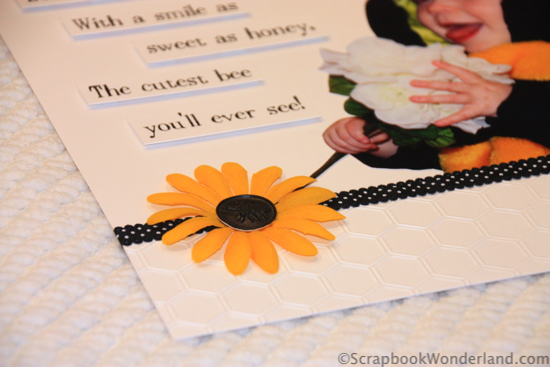 Journaling reads: BUZZ BUZZ baby Emily, Beautiful little bumblebee, With a smile as sweet as honey, The cutest bee you'll ever see!
Design Tips:
1. Looking In. Make sure the subject of your photo faces into your page. In the example above baby Emily is on the right side of the page so there is open space in front of her. If you are creating a page that just doesn't feel right double check to make sure the subjects of your photos are facing into your page and not away from it.
2. Follow the gaze. People will look where your photo subject does, so take advantage of it! If your subject is looking outside of their photo use this as a way to highlight something important.
3. White on white. Any time you scrap with one colour it has the potential of being dull or boring. Use texture and dimension to eradicate the chances of that! On the page above the journaling is printed on white strips but raised with foam tape to add dimension, and the bottom of the page has a hexagon texture to add interest.
4. Bigger is better. If a photo is good when it's small it's even better when it's bigger! Get a lot of impact with big photos. Read this blog post: 10 Tips for Using Large Photos on Layouts
Now it's your turn! Create a layout using rhyming journaling. I'd love to see it too, so come share it on the Scrapbook Wonderland Facebook Page.
Let's get scrapping!
Alice.