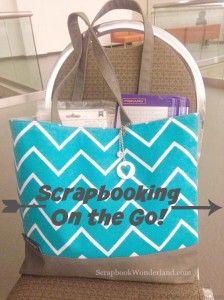 Scrapbooking on the go, it's possible and works great… when you know what to pack.
I've been scrapbooking since 1999, so by now I have a few tricks up my sleeve and I'd love to share them with you!
I recently spent a few days away from home and packed my scrapbooking supplies to go. I knew I'd have a bit of time for scrapbooking. The only problem was I had nearly no space to pack supplies.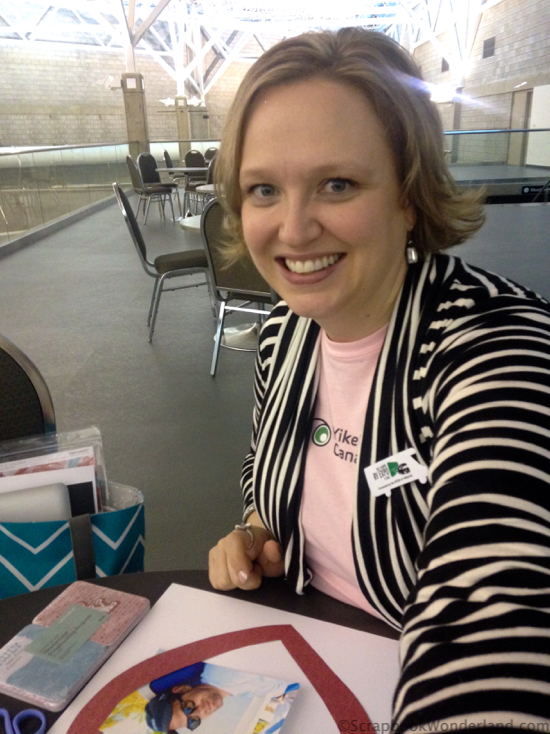 WHAT SHOULD I PACK?
Let me show you!
In my early days  of scrapbooking I didn't know how to pack for a crop so I literally packed everything I owned.
Here's proof: (2002)
This is only part of the supplies I brought to a TWO DAY crop in 2002. What was I thinking?
Actually, I know exactly what I was thinking. I was thinking the same thing that every scrapper who packs way too many supplies.
HOW DO I KNOW WHAT I'LL NEED?
and
WHAT IF I NEED SOMETHING I FORGOT?
Let me show you.
What's in the bag?
Paper Trimmer
Scissors (I bring 2 pairs, my Tim Holtz and a pair of micro tip)
Adhesive tape runner
Adhesive refill
Liquid glass – to add shine and to use as adhesive
Black stamp pad
Mini Alpha Stamps
Stamp cleaner (you can use wipes instead)
Black Journaling pen
White Journaling pen
Paper pack of co-ordinating patterns
Pocket cards that co-ordinate
White and black cardstock (or cardstock that co-ordinates with the patterned paper)
Alpha title letters
Washi tape
Sparkle tape
Co-ordinating embellishments
PHOTOS!!
What are the pocket cards for if you aren't pocket scrapping?
I love to use pocket cards as a great way to add co-ordinating elements to my layouts. They have words and images that I cut apart and use to embellish my layouts. You can check out this post about Using Pocket Cards Outside the Pocket.
What I forgot:
Glue dots
Foam tape
Glitter glue
My ruler
Is that enough to scrapbook with? Can you make beautiful or creative layouts?
Absolutely!
Here's two layouts I created using ONLY items in the kit above!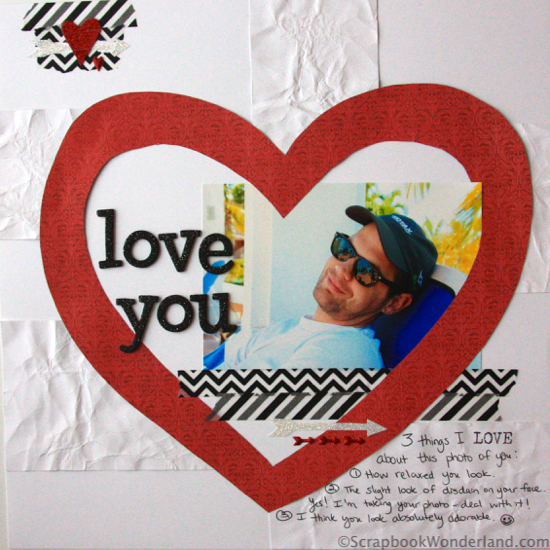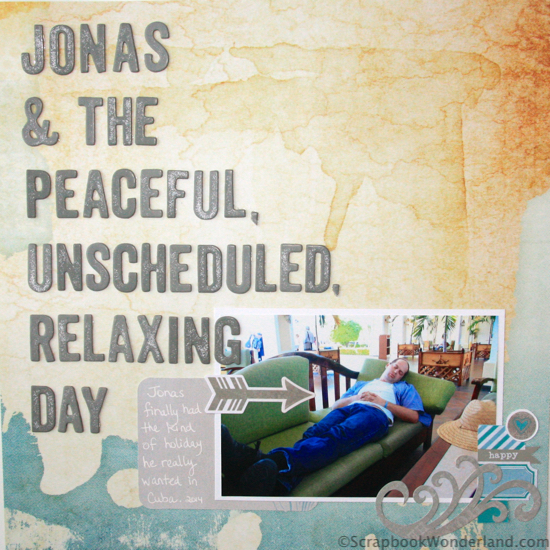 RULES:
Make sure everything works together. You can use a pre-made kit or put together your own co-ordinating kit with patterned paper, cardstock, title alphas, and all embellishments.
Bring only basic tools, unless you need a specialty item.
Be sure to bring a variety of adhesives.
Embellishments: be harsh! What do you really NEED to bring? For me that would mean washi tape and sparkly things but you need to make sure that they are the essentials that you can't scrap without.
A smaller bag is better. If you have more space chances are that you will fill it. By using a smaller bag you have to be ruthless and only pack the necessities.
Oh No! I forgot…
What do you do when you realize you've forgotten something you need?
Now is the time to be creative!
In the 'Love You' layout above I made a huge mistake on the journaling… which was inconveniently directly on the background paper! Now what?
I decided to cover the journaling with new paper. Then when I didn't like how that looked I crumpled the paper softly. Then I added more pieces of crumpled paper around the edges of the background paper.
Now is the time to make do!
In the second layout, "Jonas and the …" I really wanted some foam tape to pop up the arrow and the little circle with the heart.
I could have waited until I was home again but instead I decided that I would attach them to the page… without popping them up. Is it as good? Maybe not. Does it work? Of course.
This is not rocket science… it's scrapbooking. If you are telling your stories and including your photos that's all you really need.
Wait until you get home.
You can always wait until you get back home to add any extra things you didn't pack with you. Make sure you leave yourself an easy way to add the extra embellishment and keep going!
Okay… it's your turn! What do you consider to be an essential for scrapbooking on the go? Let me know in the comments.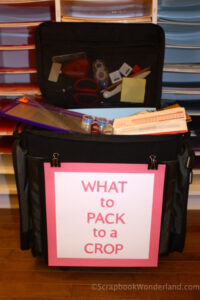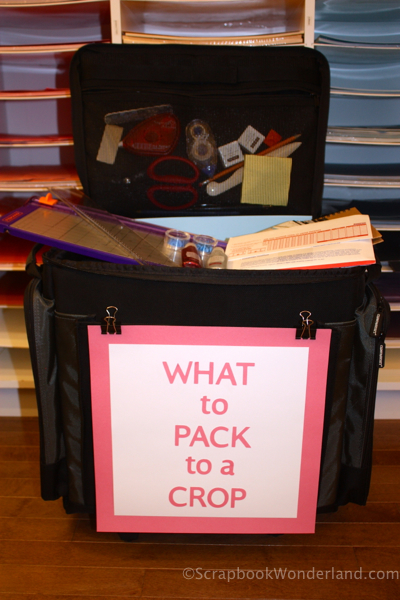 If you are heading to a scrapbook crop you should check out this post: What to Pack to a Crop: The Essentials.
Let your creativity shine, and get scrapping!
Alice.