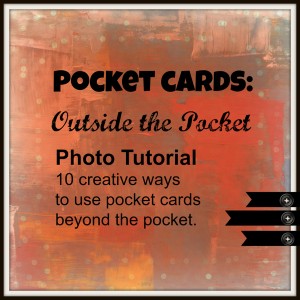 I've fallen in love with pocket scrapbooking! It's an easy way to complete a project, FAST!
If you've tried pocket scrapbooking you may have a generous stack of pocket cards. Hey! It happens!
Don't miss this guest post about pocket cards I wrote for Carole at Scrapbook Campus. I shared 10 great ideas for using pocket cards with a photo tutorial.
Before you pop over to check it out I have a Bonus trick for using Pocket Cards right here! Don't worry, I'll give you a link at the end so you can check out the other 10 ideas too!
Bored of stuffing pre-made pocket cards into pages? Need to step it up a notch? Here's a BONUS idea for using those pocket cards.
Bonus Pocket Card Idea: Create Your Own Titles
Sometimes you just don't have a card that says what you really want it to. Create your own! Let a pocket card be the backdrop for your layout title.
Now, go check out the other 10 tips for pocket cards, you'll love tip #6!  CLICK HERE for the 10 tips. Don't forget to leave a comment sharing your most creative way to use pocket cards!
Let your creativity shine!
Alice.
P.S. Looking for digital pocket pages? There's some great ones HERE and a digital PSP Script to create your own HERE.
P.P.S. Love the pocket cards featured on this page?  They are Picture My Life cards from Close to My Heart. Visit alice.ctmh.com to get yours today. (Canadian only)