When I grow up I want to be…
Do you remember what you wanted to be as a child? My dreams changed as a child. When I was very young I wanted to be a ballerina on ice, (not a figure skater, a ballerina on ice). When I was in grade 6 my dream was to be a dentist. Later on in life I decided to become a teacher. These dreams all changed with time but I never stopped dreaming. I created a layout that pays tribute to these dreams.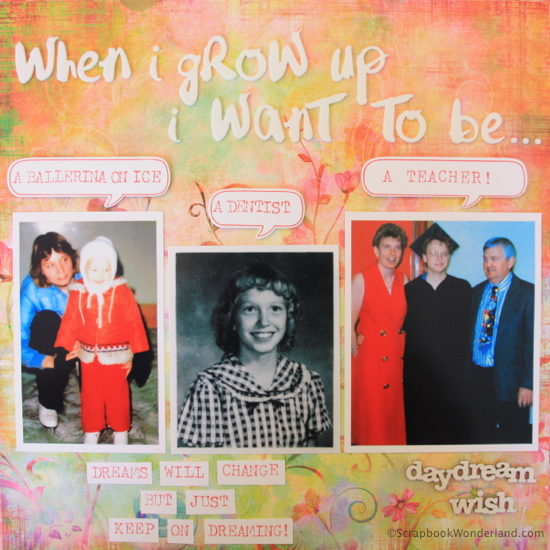 Use this page prompt idea for yourself:
What did you want to be when you grew up?
What did it mean to be a grown up? (from your perspective as a child)
Were you excited about becoming an adult?
What other dreams did you have as a child?
What are your dreams for the present?
I'd love to see your pages inspired by this prompt! You can share them with a link in the comments below, or on the Scrapbook Wonderland Facebook page.
Blog Tour Revisited 
Last week I introduced you to three scrapbookers as part of the creative blog tour. I was invited to this tour by my friend Connie Hanks from Clicky Chick Creates. This week they have answered the four questions so don't miss their responses!
Janet McCormick from Jan's Works of Heart
Candra Holmes from Paper DragonFleur
Gina Zee from Messtaken Identity
Enjoy the tour.
Let your creativity shine!
Alice.