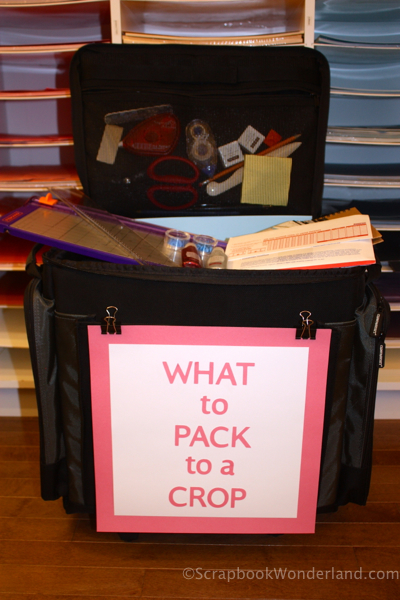 Do you have a hard time packing for a crop? More than once I've packed for a crop, brought SO MUCH STUFF that I could never have used it all in 6 straight months of scrapbooking, showed up and… OOPS! I forgot my paper trimmer! How do you scrapbook without a trimmer? (Yes, I've done this more than once!)  🙂
Here's how to prepare for a crop, so you don't have an experience, or two, like mine!
How to prepare BEFORE the crop:
Figure out how much you can normally accomplish in the amount of time you will have at the crop. If you normally spend 5 hours on one layout don't bring enough supplies for 20 layouts to a 5 hour crop!
Preplan your pages. These don't need to be perfect or exact!  I recommend planning for the number of layouts you 'expect' to scrap, plus one. That way you have a back-up if you are super efficient!
Develop photos. How many do you really need to bring?
Call the host of the crop to find out what tools will be available. You won't need to pack these things, especially if they are big, heavy and bulky!
Find out if shopping will be available onsite too!
Grab any idea books with layouts you want to scraplift.
What to pack, the essentials:
Photos… this means you need to develop them before the crop!
Paper Trimmer
Spare blade for the trimmer
Adhesive: tape runner, glue dots, foam tape, Sookwang tape, liquid adhesive, Xyron
Scissors
Journaling pen(s)
Cardstock
Pencil and eraser
Scrap paper for sketching ideas/journaling
Sanding/distressing tool
Distressing ink
Paper piercer
Craft blade and mat
Ruler (0r just use the one on your trimmer)
Memorabilia
Your journal or notes you use for journaling
Embellishments you PLAN to use: brads, buttons, glitter gel, ribbon
Stamping supplies: stamps you PLAN to use, inks, cleaner
Patterned paper you PLAN to use
Stickers/Stamps for creating titles
Cricut mat? Or other personal items to use on machines
Cup holder? Not an essential but very handy!
Water Bottle
Oh NO! I wish I had…
It's inevitable, at the crop you will wish you had brought something from your stash. Oh well! At a crop challenge yourself to FINISH your layouts using only the supplies you have on hand, or can purchase onsite! This will give you a huge sense of accomplishment when you go home, and layouts can almost always be completed without whatever item it was you thought you needed!
ALICE'S TIP: For versatility on my scrapbook pages I always try to use other people's tools when I'm not at home! Stamp sets, punches, fancy tools that I don't own, etc. This makes my pages look and feel different without having to spend the money on these tools!  Plus it is a great way to test a tool and see if I want to invest in it.
Happy scrappin'!
Alice.
P.S. Love the tips you've seen here? Want more? Sign up for the Scrapbook Wonderland email list and get practical and useful tips delivered right to you!