September is a time of new beginnings. Kids head back to school and family life gets back into a normal routine.
Teenagers can be difficult to capture for that back to school photo. If you can manage to get a photo, I've got ideas to help you get them onto a scrapbook page!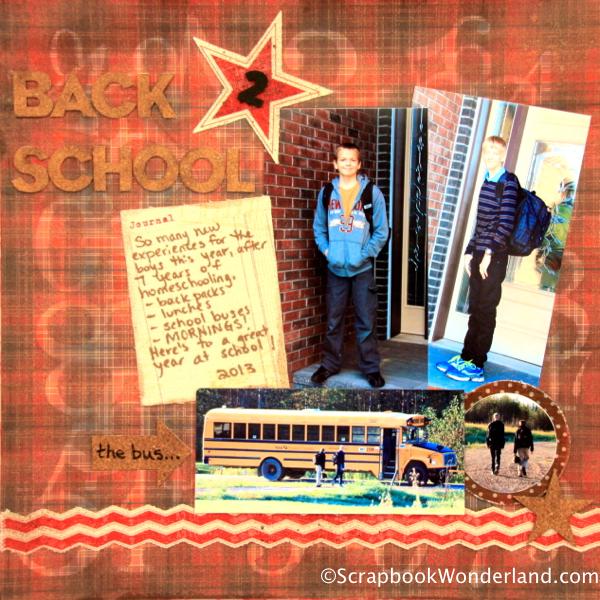 We have been homeschooling for the past 7 years. Scrapbooking the first day of a school is a classic scrapbookers go-to layout, and I have been denied this staple page for 7 years! With my boys heading back to school this fall I was excited to have 'real' back to school photos.  I even took photos of them getting on the bus! (With my zoom lens, from the house, I tried not to be totally embarrassing!)
If you have teens, and especially boys, you might be looking for some school-themed options other than apples! Hey! There's nothing wrong with apples, but we need to branch out a bit! My boys are 12 and 14 so I didn't want the page to feel too 'young' either.
Here's some fun, but mature ways to play with a school theme.
PLAID
When I see plaid I think of school uniforms and Scotland. We are not in Scotland and my kids don't have uniforms, but plaid still feels like school, so using it on a school-themed page works well. Bonus for you if your kids do wear plaid uniforms!
NUMBERS
Ah math! You either love it, or wish you could leave it! No matter which side you, or your kids, are on you can add a scholastic theme by ADDING numbers to your layout. 🙂 Try this fun and easy technique. Use a template  and some spray mist to create a numbered background. If you don't have a template it is super easy to create one using die cut numbers scattered randomly over the page.
CORK
Classrooms always have bulletin boards so the cork on this layout is a natural extension of a classroom. Cork alphabets and shapes are a great way to add texture and embellishment while keeping it more grown-up.
CANVAS
Canvas makes me think of backpacks. Backpacks need to be strong and durable, and although they are not usually made of canvas anymore they do have a similar feel. If canvas doesn't remind you of a backpack it might remind you of canvas shoes, and that works for kids and school too!
No matter how you scrapbook your back to school photos I hope you have fun with it!