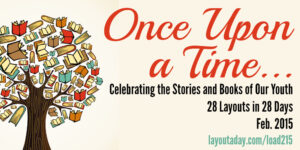 Happy Valentine's Day! I'll share a list of 'love' scrapping links at the bottom of this post!
I'm so thrilled to be the featured designer on LOAD215 again today!
(Did you miss the last layout that was featured on LOAD? It is an adorable page that uses journaling that rhymes. Visit this page: BUZZ BUZZ)
Today's Prompt:
Little House on the Prairie: books that have had an impact on you.
Day 14
At first I was sad that I don't have memories of Little House on the Prairie, I love to be 'on prompt'. When I think of books that really had an impact on me as a child I just can't get the image of sitting with my little record player out of my head. I can still hear the narrator's voice and I know that my reading fluency, vocabulary and passion for reading were fueled by my read-along books. I created this page to look like the back cover of a read-along book. Let's begin now…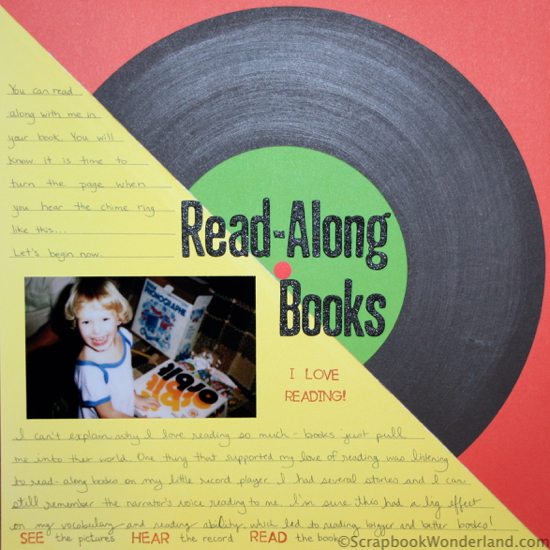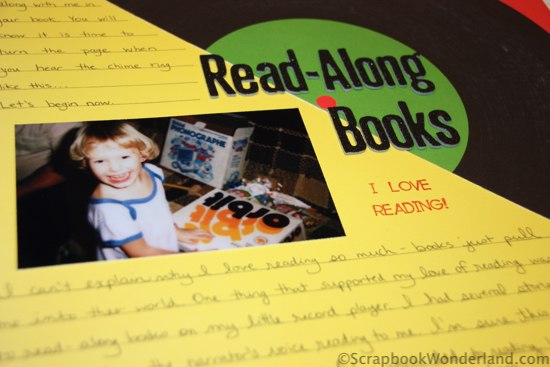 Journaling reads: You can read along with me in your book. You will know it is time to turn the page when you hear the chime ring like this… Let's begin now.
I can't explain why I love reading so much – books just pull me into their world. One thing that supported my love of reading was listening to read-along books on my little record player. I had several stories and I can still remember the narrator's voice reading to me. I'm sure this had a big effect on my vocabulary and reading ability, which led to reading bigger and better books!
I created this page to look like the back cover of a read-along book. I loved the bright colours and the diagonal design that showed a read-along record peeking out!
Fun fact: You can see the box for my little record player in the background of the photo on the layout!
Tip: To create the scratched record effect I rubbed a large grain sanding block around the black cardstock in a circular motion… TA DA! A perfectly scratched record!
Let's begin now… with scrapbooking about the book(s) that have made an impact on you! If you create a page about books that inspire you I'd love it if you'd share it in the Scrapbook Wonderland Facebook group!
Are you in the mood for a little LOVE? Love scrapbooking of course! Try these posts!
Happy Valentine's Day!
Let your creativity shine!
Alice.