Ouch!
Sometimes in life there's a few bumps and scrapes along the way. And sometimes it's even worse… something breaks. (No, I'm not only talking about broken bones… life has many bad breaks.)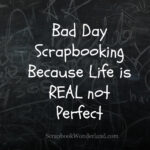 When bad things happen you can still share the stories in your scrapbooks. Read more about scrapbooking the less than perfect moments here: Bad Day Scrapbooking.
My son broke two toes recently. Although this definitely won't be a happy memory I felt that it was still an important story that needed to be shared.
But here's the problem…
How do you embellish a story that is not positive and happy? I can't use bright, happy colours. There's not many choices in stickers, die cuts or other embellishments.
Here's how I approached scrapbooking x-rays and broken bones.
Use Your Theme:
The x-ray inspired my page design. By using the black and white colours of the x-ray it helped to convey the theme of the page.
Think about how the topic you are scrapbooking can be used to add to your page design.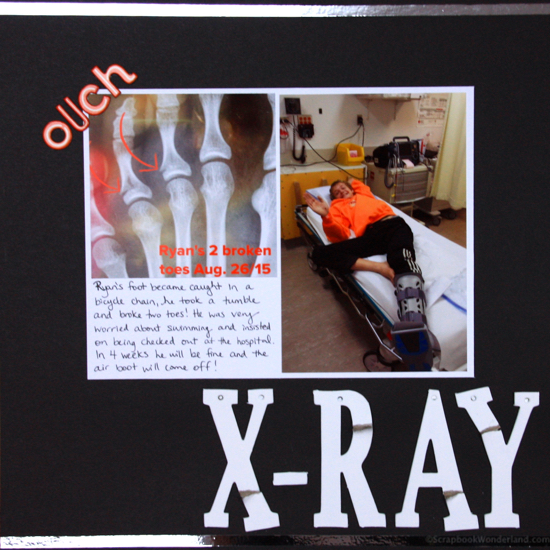 Simple Details:
One way to embellish your layout, and to keep it simple, is to add details to your photo using apps. On this photo of the x-ray I used the "A Beautiful Mess" app to add the arrows and words before I printed the photo.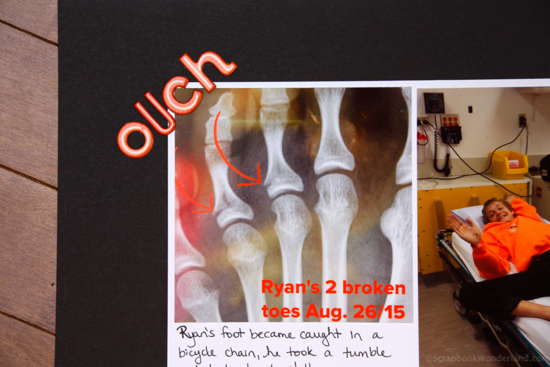 Sneaky details:
Get creative with the details on your layout. Take a closer look at the title on this layout. Instead of adding regular letters I 'broke' the letters.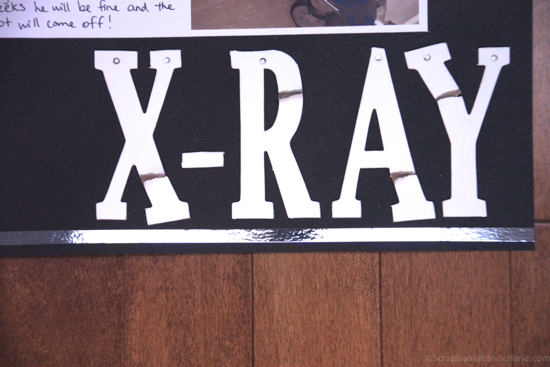 As it turns out, broken bones can lead to creative scrapbooking. 😉
Make it Monday
You may have arrived at this post from Digital Scrapbooking HQ  where Melissa was showed how a super cute baby and his teddies = a super cute and super fast page.
Your next stop on the Make it Monday blog circle is to Alison Day Designs where Alison gives an inside look at her Disney album. Layouts to Memory Books Part II.
Now it's your turn!
Have you scrapbooked an x-ray, broken bone, or another one of life's bad breaks? How did you approach your topic? Share your ideas in the comments or over on the Scrapbook Wonderland Facebook page!
Let your creativity shine!
Alice.