Have you ever been inspired to scrapbook a bad day? Perhaps this post about the
28 Parents Who are Having a Worse Day than You (link should open in a new window, so you'll remember to come back here after laughing at these hilarious photos… CAUTION: baby vomit is included) will remind you that even in the tough times there's a story to told.
First let's interrupt for a second…

Make it Monday
If you've joined me from Jen Wright Designs you'll have seen Jen's fun Instagram waterfall-style free template. (If not be sure to check it out!)
I'll share your next stop on the Make it Monday Blog Circle at the end of this post.
Back to the bad days… hmmm… that sounds… terrible. (Yup, pun intended.) 😉
I'd say that the majority of scrapbook pages I see represent the happy, adorable moments and memories. That's fine, there's nothing wrong with that, but…
There's more to life than happy memories.
Life isn't perfect.Why should your scrapbooks tell a story that is?
My scrapbooks are not a work of fiction. Real life happens here… ALL of the TIME! It's only appropriate that my scrapbooks should share some of those stories too.
I scrapped a page a few years ago (or more than a few… but who's counting) about a particularly bad week with my boys.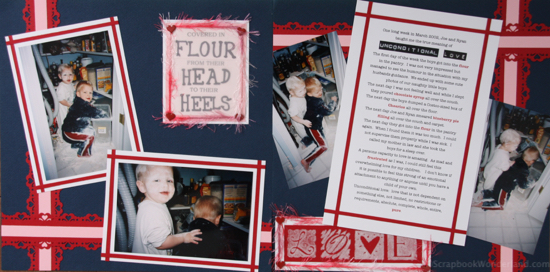 Left page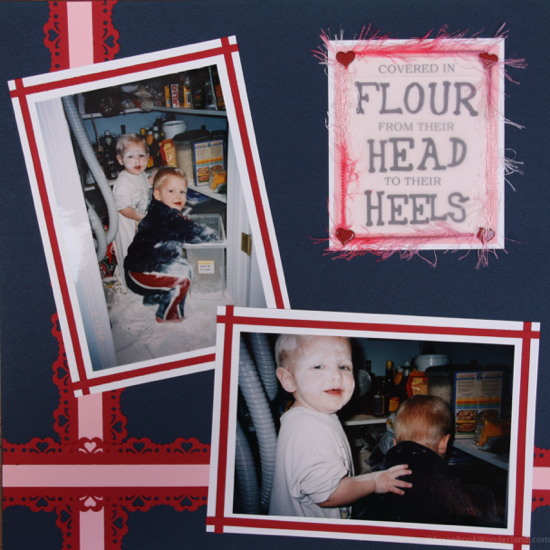 Right page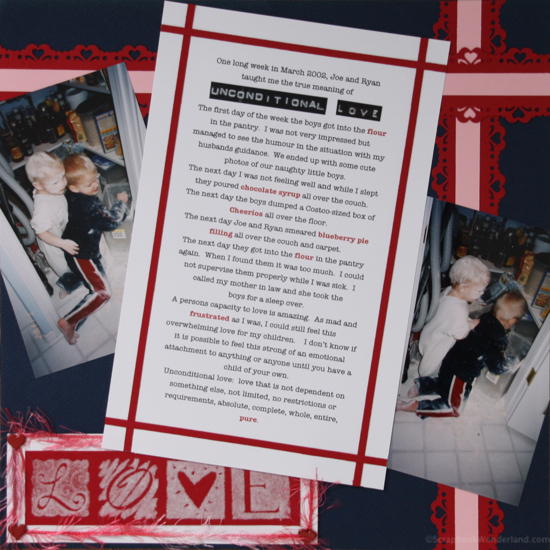 Journaling reads: One long week in March, 2002, Joe and Ryan taught me the true meaning of unconditional love. The first day of the week the boys got into the flour in the pantry. I was not very impressed but managed to see with humour in the situation with my husband's guidance. We ended up with some cute photos of our naughty little boys.
The next day I was not feeling well and while I slept they poured chocolate syrup all over the couch.
The next day the boys dumped a Costco-sized box of Cheerios all over the floor.
The next day Joe and Ryan smeared blueberry pie filling all over the couch and carpet.
The next day they got into the flour in the pantry again. When I found them it was too much. I could not supervise them properly while I was sick. I called my mother-in-law and she took the boys for a sleepover.
A person's capacity to love is amazing. As mad and frustrated as I was, I could still feel this overwhelming love for my children. I don't know if it is possible to feel this strong of an emotional attachment to anything or anyone until you have a child of your own. Unconditional love: love that is not dependent on something else, not limited, no restrictions or requirements, absolute, complete, whole, entire, pure. 
(Suggested) Rule to Follow for Bad Day Scrapbooking
1. Make sure you are telling your own story. Other people may not be as happy about you sharing their unhappy moments. This goes double if it is an embarrassing story! But certainly feel free to tell your own embarrassing stories!
By sharing the bad moments as well as the good it will allow your scrapbooks to really share the stories of your life. Although the idea of telling a perfect story can seem appealing by adding the less-than-pleasant things you'll be sharing your real life, and isn't that truly what scrapbooking is about?

Make it Monday
Your next stop on the Make it Monday Blog Circle will take you to  Scrapping Wonders where Beth has some quick and easy gifts for teacher appreciation week, perfect for those days you are short on time!
If you've scrapped a bad day and would like to share details you can leave a comment. What rules do you follow?
Have an awesome day… even if you aren't scrapping one! 🙂
Alice.
P.S. Today I'm featured on The Scrap Gals Podcast!!!!!! I'm so excited! We are talking about scrapbooking using Children's Books for inspiration. I've shared a whole blog post about itand you'll find all the links you need HERE.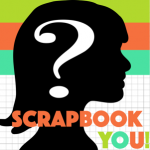 P.P.S. Are you registered for the new Scrapbook YOU! class? If you've ever thought, "Gee, I should make a scrapbook about myself." then this is THE class that will show you how to get it done, what to include and more! Get all of the details HERE.