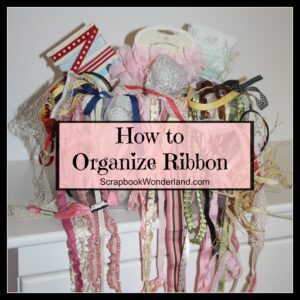 Ribbon can quickly become overwhelming in your scrapbooking space. There are so many beautiful options and colours!
Before you know it you have a nightmare of tangled ribbon to try and sort out. Yikes!
Don't worry. I have a simple way to organize ribbon.
Follow my tricks and you can get your ribbon under control too. Don't miss my secret to maintaining it!
Let's take a peek at the ribbon storage in my scrapbook room. I'll share some of the best tips that really work to help me keep my ribbon stash under control.
Sort it
Rolls, packages, and loose ribbon. You need a plan to deal with all of it.
As you sort it ditch anything you know you will not use. Your tastes will change over time so don't feel that just because you used to like it that you must keep it! (If you really hate throwing it out find a good place to donate it; schools, retirement homes, play-schools, etc.)
Contain it
Assign a home to each ribbon. Use containers. Don't just dump everything into a drawer! Go through your old Tupperware, shoeboxes or baskets to keep things from getting tangled and rolling around inside a drawer when you pull out ribbon to use.
Maintain it
Now that all of your ribbon has a home you need to maintain the system. Take the time to put things away after you use them. When you purchase new items fit them into your system. This regular maintenance makes all of the difference!
Here's my secret to maintaining this system! Think I'm perfect, and that my ribbon section always looks this wonderful? I wish! The photo of the messy ribbon is from my own stash. I keep a container where I stash the ribbons that have not yet been incorporated into my system. This is where the pieces I pick up from my shopping trips end up before I finally sort them out. Yes… it's been a while, so I'm getting on it! 😉
So, are you ready to go and organize the ribbon in your scrapbooking space? I'd love to hear if these ideas work for you, or if you've found something even better!
If you have punches that could use some organization check out this blog post:  4 Easy Steps to Organize Punches
Let your creativity shine!
Alice.