What do you like to cook? Do you have a passion for baking? Are you a whiz in the kitchen?
Here's another question:
Have you scrapbooked it?
It's time to capture the story of your kitchen prowess for your scrapbooks!
But first, here's my confession:
I don't spend a  lot of time in the kitchen. I've never really loved baking or cooking so I kind of do the minimum required. There's a few things I make well, and I keep going back to those things.
I do the same thing with my scrapbooking.
What is your comfort zone? What supplies do you 'always' use? Do you find yourself creating the same layout over and over?
That is okay!
All you need is a bit of variety. You don't need to reinvent scrapbooking every time you sit down, you just need a few tried and true recipes, things that really work.
Then, once in a while you can try something new. A new technique, embellishment, colour-scheme, it really doesn't matter.
This is exactly like playing with new ingredients or trying a new recipe in the kitchen, it keeps things fresh. If you tried a new recipe every day in the kitchen it could be exhausting! It works exactly the same for scrapbooking.
Find what works and then spice it up once in a while.
For me, I love to make pancakes. Here's my story…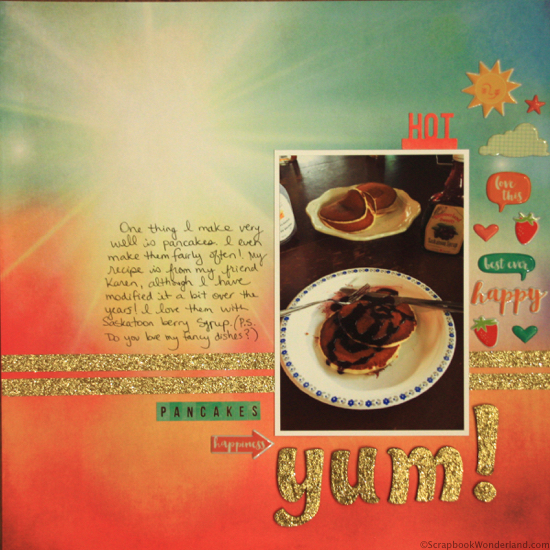 Journaling details:
One thing I make very well is pancakes. I even make them fairly often! My recipe is from my friend Karen, although I have modified it a bit over the years! I love them with Saskatoon berry syrup. (P.S. Do you love my fancy dishes?)
Make it Monday
Are you ready for more delicious scrapbooking ideas? Head over to see what Alison's up to with her fun layout about what parents do when their kids are away for a week. Alison Day Designs
You may have arrived from Digital Scrapbooking HQ where Melissa is showing you how to create chevron paper!
What do you think? Do you use tried and true recipes in your scrapbooking as you would in the kitchen? I'd love to hear what you think! Leave a comment or pop over to the discussion on the Scrapbook Wonderland Facebook page.
Let your creativity shine!
Alice.
P.S. Are you wondering about that beautiful patterned paper I used on the layout? It is from Simple Stories. Summer Vibes, Shine On.