Hooray! It's almost time! LOAD216 starts on February 1.
One of the best things I've done for my scrapbooking was to challenge myself with LOAD a couple years ago.
Why?
Here's what I learned:
I can scrapbook more than I ever thought I could.
Scrapbook pages don't have to take me as long as I thought.
By scrapbooking MORE I can be MORE creative.
I could actually scrapbook EVERY DAY for a month!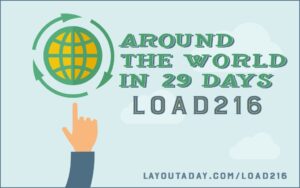 Here's how it works:
Each day of February you'll receive access to a special video with the daily prompt, sample layout, and suggestions on interpreting the layout to tell your most precious stories on your scrapbooking pages.
You'll also have access to an inspiring and super-friendly community with a gallery and message board where you can share your creations and connect with other scrapbookers. With prizes, a community, and ideas galore, you'll be scrapbooking more than you ever thought possible!
Here's some tips for preparing for LOAD:
Keep extra adhesive handy! It's surprising how much you'll need!
If you meal plan ahead of time it makes it easier to get through the month.
Go with the flow. Some days are easier than others, if you have extra time that's great! If you are short on time, compromise. Make a simpler layout. Use a digital scrapbooking app.
Accept what you can do. I have not been successful with every single LOAD that I started. That was okay because even when I didn't complete every layout I was still proud of the layouts I DID complete!
Here's what's included:
29 daily prompts on the topic of Around the World in 29 Days
29 daily videos with sample layouts from our team of "featured scrappers"
Private message board
Private gallery
Interviews with cool international scrappy folk
PRIZES
Inspiration, fun, and companionship galore!
So, if you're ready to get a bunch of scrapping done while having a ton of fun…
Or…
Join the ScrapHappy family! One of the perks of being a ScrapHappy member is that all 3 LOAD challenges are included for members! There's lots of other perks too. I'm so glad I found this group of scrappers. They mean the world to me and I love sharing our passion for scrapbooking with people who really "get it"!
I hope you'll join the fun!
Alice.