Some things never change. As long as there will be teenagers there will be teenagers not listening to their mothers and not dressing properly for the weather.
I saw proof of this recently when my boys were walking outside during -26C weather… one with his coat wide open, the other dressed in only a hoodie. (-26C is -15F). My husband, of course, was dressed as though we live near the arctic, it is Canada, so he has a point!
Capturing this moment in time is a great topic for a scrapbook page. It captures a "here and now" moment, a "teenage life" moment, and includes a bit of history all at the same time!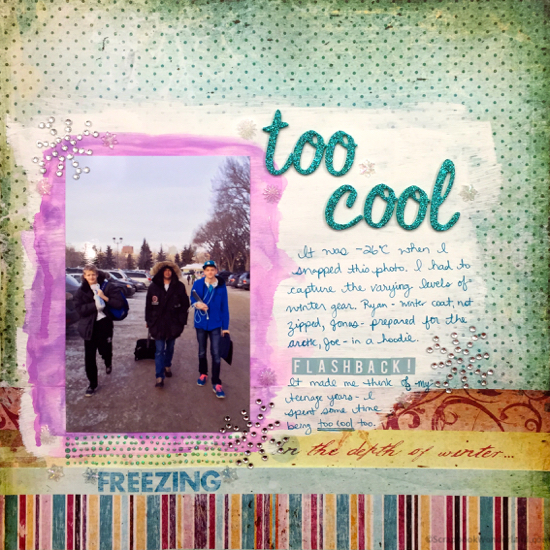 This reminded me of my own youth. I received trouble from my mom, more than once, for leaving the house without proper winter clothing! I was "too cool" to wear warm clothes. Literally! 😉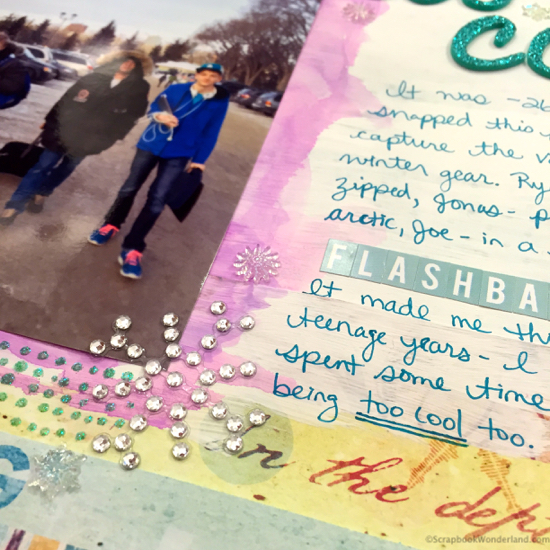 Journaling:
It was -26C when I snapped this photo. I had to capture the varying levels of winter gear. Ryan – winter coat not zipped, Jonas – prepared for the arctic, Joe – in a hoodie. FLASHBACK! It made me think of my teenage years – I spent some time being too cool too.
Make it Monday
If you're checking out the Make it Monday blog hop you'll have arrived from My Kreative Pursuits where Lisa is showing how listing can be a great addition to your memory keeping!
Your next stop will make you wonder… Christmas Cards in January? Sometimes it's just never too late! Pop over to Clicky Chick Creates to see why!
Related Post
If you liked this post then you'll also like this one: Journaling Tip: Making Connections
What kinds of things have you seen your kids do that remind you of your childhood? Share your stories in the comments!
Let your creativity shine!
Alice.