When I want my journaling to be more meaningful, and to tell a better story, one trick I use is to make a connection.
I ask myself, "Does this photo remind me of something?"
Maybe your son looks just like your dad did at that age. Maybe you went to the same beach as a child. Maybe you have many happy memories of ski-dooing with your dad. If you can include a photo of the 'memory' that is great. If not, don't worry, just TELL the story of the connection!
In this layout, Winter Wonderland, I tied together a photo of my kids ski-dooing with my dad and a photo of my brother and I ski-dooing with my dad. My journaling reflects how special it is to me when I see my boys enjoying this activity with my father.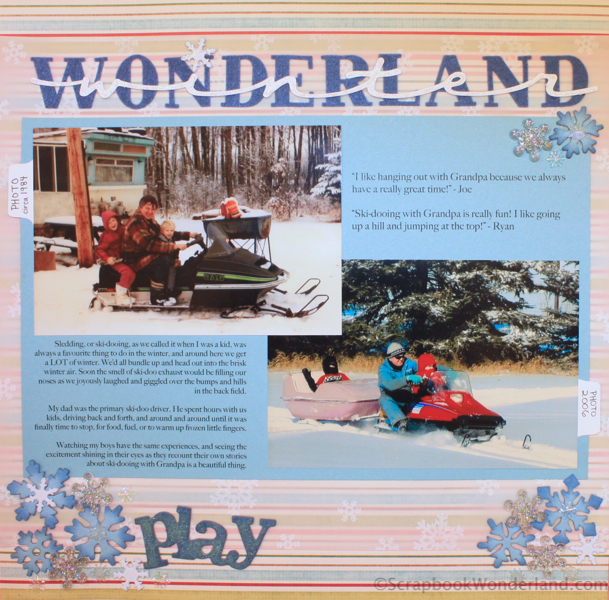 The journaling:
Sledding, or ski-dooing, as we called it when I was a kid, was always a favourite thing to do in the winter, and around here we get a LOT of winter. We'd all bundle up and head out into the brisk winter air. Soon the smell of ski-doo exhaust would be filling our noses as we joyously laughed and giggled over the bumps and hills in the back field.

My dad was the primary ski-doo driver. He spent hours with us kids, driving back and forth, and around and around until it was finally time to stop, for food, fuel, or to warm up frozen little fingers.

Watching my boys have the same experiences, and seeing the excitement shining in their eyes as they recount their own stories about ski-dooing with Grandpa is a beautiful thing.
The quotes from my kids:
"I like hanging out with Grandpa because we always have a really great time!" – Joe

"Ski-dooing with Grandpa is really fun! I like going up a hill and jumping at the top!" – Ryan
I think it's important to note that although the photos of my boys are from 2006, the quotes are from now. It doesn't really matter. They are still relevant to the page, and they share a part of the story that I can't tell on my own.
I love to see the details on pages, so here's some details:
Page Elements:
Paper: My Mind's Eye
Vellum: Creative Memories
Chipboard Snowflakes: Maya Road
Felt Alphabet: Close to My Heart
Glitter Snowflakes: Jesse James Beads
Chipboard Word: Deja Views
Cricut cartridge: (to cut 'winter') Opposites Attract
Snowflake Stamp: (to stamp on vellum with pigment ink) Close to My Heart
Ink and Glitter Gel: Close to My Heart
Font: Big Caslon
What connections would you like to add to your pages? If you like this tip please share it with your friends!