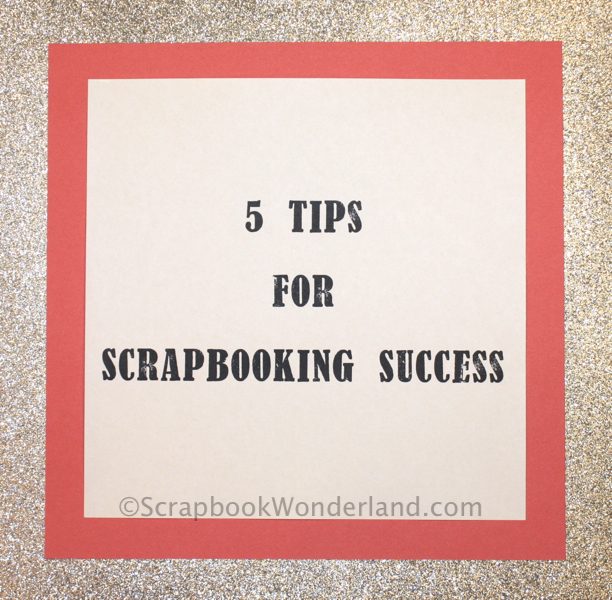 Do you find scrapbooking overwhelming?
Want it broken down, with clear tips on how to scrapbook successfully?
In this video I will show you exactly how to break scrapbooking down to the key components. Follow these 5 tips and you will find Scrapbooking Success!
5 Tips for Scrapbooking Success
I want to share with you my 5 Tips for Scrapbooking Success. Before I do that let's consider why scrapbooking is important.
When it comes down to it most scrapbookers will tell you that whether or not they enjoy the creative side of scrapbooking they want to:
share their story
document their life
preserve their memories
When I create a scrapbook page I'm sharing an important part of my life. I tell the story of how we live and how we love.
So let's get back to the 5 Tips for Scrapbooking Success:
Tip #1. Journaling
Journaling is key! Your story matters. Tell your story on your scrapbook pages. A scrapbook without words is only a pretty photo album. It doesn't matter if your story is about taking the kids to the park, or about your personal battle with breast cancer. If it's important to you it deserves to be told. Your story matters!
Use your own handwriting on your pages to make them even more meaningful.
Tip #2. Photos
Chose ONE photo to focus on. This should be the photo that best describes your story. You DON'T need to use every photo! Let extra photos act to embellish your story.
Tip #3.  Titles
A title is an opportunity to share the theme of your page. Think about what your story is telling to choose the most meaningful title. Don't forget that a title is also an embellishment, so feel free to have fun with it.
Tip #4. Design 
Don't let design scare you! Use design tips to help your page 'feel' the best. Try:
sketches
visual triangle
co-ordinated papers and embellishments
scraplift: Find layouts you like and use the design elements on your own pages! Don't forget to scraplift from your own pages!
Tip #5. Embellishments
Don't forget what story you are telling. Find embellishments that relate to your page. Let your creativity shine! Go heavy on embellishments if you love them, or use them sparingly if it's not really your comfort zone. Some easy embellishments are:
memorabilia
quotes
definitions
Journaling, Photos, Titles, Design, and Embellishments. These are the 5 key elements to consider for scrapbooking success. I hope these 5 tips will help you achieve success in creating more meaningful scrapbooking pages that share the story of your life.
Love scrapbooking? You'll love the tips, tricks and techniques shared with email subscribers!