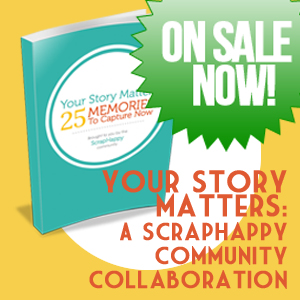 Do you have problems adding meaningful journaling to your scrapbook pages? Do you find yourself scrapbooking events but not telling your story?
I'm always searching for ways to make my scrapbooks matter. One of the best things I've found for inspired journaling is to use prompts.
If I start with my photos, my journaling tells the story of what happened in the photo. If I start with a prompt, I can share my feelings, emotions and heartfelt stories.
Lain Ehmann has created an amazing ebook, with collaboration of her ScrapHappy community, to help you find ways to share your story, and to realize that your memories deserve to be captured.
Lain was inspired to share her memories, and help others do the same, when she watched her mother fight a losing battle with dementia.
Click here to read Lain's story.
Your Story Matters: 25 Memories to Capture Now will help you get to the heart of your story.
This 53 page ebook contains:
25 Unique Prompts
50 Exclusive Layouts created by the ScrapHappy community
Tons of fun!
There are two ways you can get this book…
1. You can buy it directly. Click here to view more details
OR…
2. The book is a bonus when you become a ScrapHappy member! (This is just one of the many perks of membership!) Click here for more details about membership.
Grab the book now and get ready to share your story!
Alice.