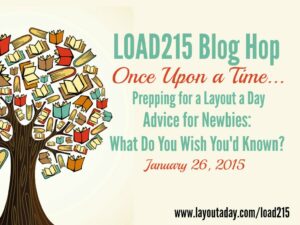 Did you know that it's possible to scrapbook every day for a month? I would NEVER have believed this was possible before my first LOAD (LayOut A Day).
It's true! I did it and you can too!
In this post I'll share all of my best pre-LOAD tips with you. I'll tell you about the surprises, the supplies you'll need, and the method I used to get through a LOAD challenge successfully.
At the end of this post I'll share more stops on this blog hop so you can get tips from other Loadsters too.
The Surprises:
There were a lot of things I didn't know the first time I participated in a LOAD.
I had no idea how much fun I would have!
I didn't know that I really could scrapbook every day for a month. I didn't think this was possible before!
I was surprised to find out that I would learn to scrapbook faster. Scrapbooking every day will teach you little tricks that speed up your scrapping process.
The People:
I didn't know how good the people are. Every day I would add my layout to the Flickr group. Other class participants would leave encouraging and positive comments on my layouts. It was so rewarding to see the kind comments left by the other scrappers.
I had no idea how inspired I would be by the other layouts in the group. I loved seeing how other scrappers interpreted the prompts and that gave me MORE ideas of things I should scrap! I made sure I left comments for some of the other scrappers too. There was a real sense of community.
The Stories:
I told great stories during LOAD. In the past I struggled with journaling but the prompts were very inspiring. They lead me to tell stories I had never thought to scrap before. The pages I created had heart. They told stories from the soul.
Want to know the secret? Most of the prompts start you with a story to tell. When you start with a story, you find pictures that will help you embellish the story and papers and embellishments that will pretty it all up. By starting with the story first, not the photos the journaling was so EASY!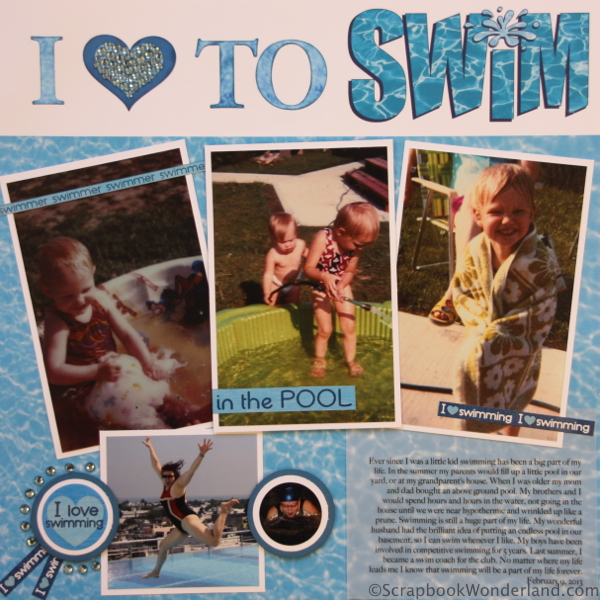 The Supplies:
I needed a lot of adhesive. Be sure to stock up. I use tape runner, glue dots, liquid glass and foam tape, so don't forget to replenish your stash now!
I didn't realize how much I love to use Thickers and other alpha letters on my layouts. Stock up with any essentials YOU need. Not sure what your go-to items are? Take a peek at a few of the layouts you've made recently. What do you use a lot of? Are there any trends? Make sure you have plenty of that go-to item on hand!
A great way to complete your layouts faster is to use kits that have coordinated papers and embellishments. Kits are designed so that the elements will work together. They PAY designers to do that for you, so make it easy on yourself and use kits! I like to have a variety of kits available for scrapping during LOAD.
The Photos:
There are three important things related to photos that have helped me complete LOAD.
It is awesome to be able to print photos at home. Stock up on ink and photo paper so you can tell the story you really want to.
I borrowed a box of old photos from my parents. It was a pretty random selection, but it really helped me tell some of the stories that related to my childhood.
Sometimes the photos I chose for my layouts were not perfect. The photos were grainy, or too dark, or they were at the wrong event, but it didn't matter. I found photos that worked well enough to embellish the story and looking back it TOTALLY works! Don't allow yourself to get paralyzed by searching for the perfect photo!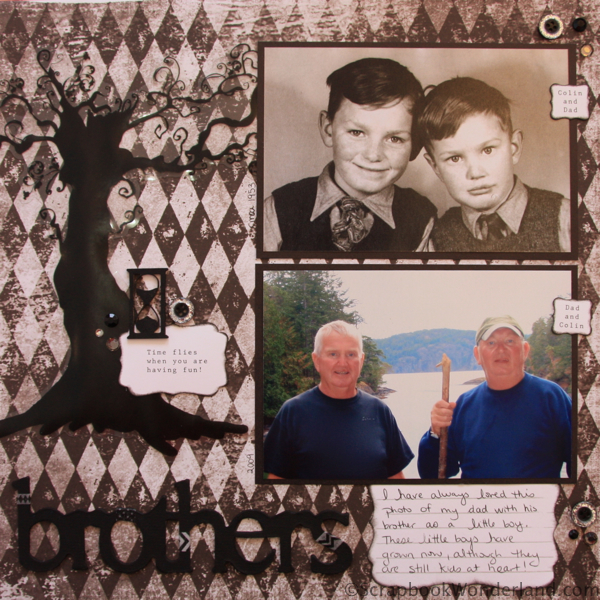 The Determination:
I was surprised at how determined I was to be successful. I really wanted to be able to accomplish this goal. Here's some tips to set yourself up for success.
When you start LOAD you'll be thrilled with each page you complete. As time passes you'll realize, YOU ARE DOING IT! You are scrapbooking every day. You are telling your stories! This excitement will help motivate you when things get more difficult.
Meal planning helps! Plan out a month of meals, make the meals simple and fast… you'll want to leave yourself more time for scrapbooking! Pull out the crockpot. I even like to pre-cook hamburger and make meatballs to put in the freezer ahead of time. Planning meals is a great way to set yourself up for success. You don't want to miss scrapbooking because you had to cook! 😉
Get your family on board with your goal. Let them know how they can help you reach your goal. If you are determined you will find a way to make it work… perhaps instead of family members 'picking up the slack' they are 'exercising their independence' and 'practicing their cooking skills'. Lol! 😉
Use the other LOAD participants to keep you motivated. Participate in discussion threads in the Flickr group, especially if you want moral support or a kick in the tush! 🙂
Reaching the end of the month successfully is so rewarding. I don't know how to explain the sense of personal accomplishment I felt at the end of my first LOAD.
This Worked for Me: (the method)
I liked to find out the prompt for the next day the night before. If I could I'd take a quick peek at the prompt before I went to sleep. (You could always check in the morning if you're not a night owl like me.)
I thought about how I would approach the prompt as I went about my day. I'd find a time I could print the photos I'd need. In the evening I'd sneak some time to sit down and scrap.
Having all day to think about the prompt gave me time to figure out how I was going to tell the story and which photos would be the best to help tell the story.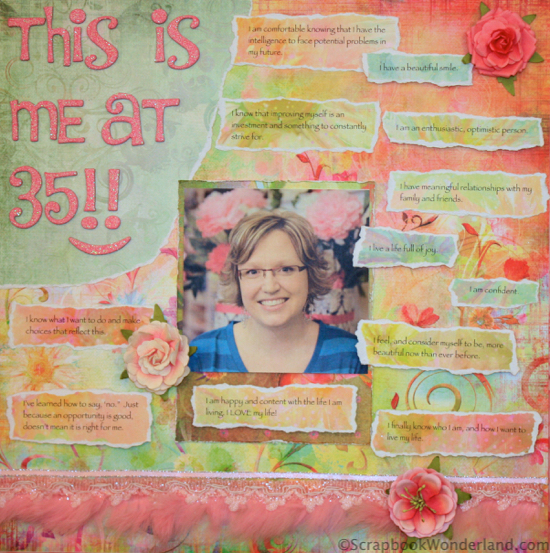 Learning how to scrapbook faster helps too. Scrapbooking every day sparked my creativity and I made gorgeous pages that told great stories and were fun and creative.
When Things Get Rough: (oh no!)
Sometimes it gets difficult. You may miss a deadline. You may have a day where you just can't scrapbook. These things happen! Move on, know that life can be like that, and scrap again the next day. At the end of the month you'll still end up with a bunch of completed layouts that you will be proud of.
I was reminded of another thing that helps when things get rough by Lisa H in the post comments. It was such a great point that I had to share it here!
Here's what I wrote before I did my very first LOAD. Read the post. I've learned a few things since then!
Are you registered for LOAD215? If not Click here to view more details. I'm already in LOVE with the theme for this LOAD, I'm sure I'll be sharing great stories!
LOAD215 Blog Hop:
There's so many more things you should know before your first LOAD. Visit the blog posts on tis blog hop to get all of the tips and tricks you'll need to get started!
Now, let's get ready to scrapbook… every day, for a month!
Alice.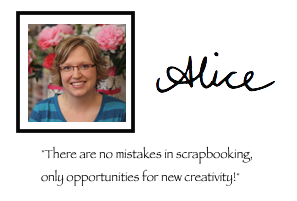 Love these tips? Sign up for the Scrapbook Wonderland email list! You'll receive tips and tricks to help you make your scrapbooking awesome and we are NOT spammy, 'cause we hate that too!