Big emotions are a part of life. Good times and bad will come your way and capturing that emotion in your scrapbooks will truly make your pages come to life!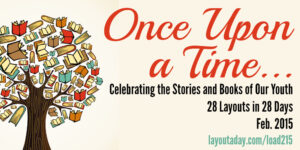 I'm thrilled to be a featured designer this month in LOAD215.
(Did you miss the last one of my featured layouts? For a blast from the past check out READ-ALONG BOOKS here.)
Page Prompt:
Day 20 of LOAD215
Be inspired by the Judy Moody children's book. Share your take on the Judy Moody story starter: "Judy Moody was in a mood. A _______ mood."
Although I never read Judy Moody I knew exactly what to do with this prompt! I knew the page I created would feature some big emotions and I was thrilled to scrap about my fearless adventure riding in a stunt plane with an airshow pilot. Due to my lack of photoshop skills I added text to my large photo with rub-ons. I felt that the large photo really captures the thrill of the ride, so I didn't use extra embellishments.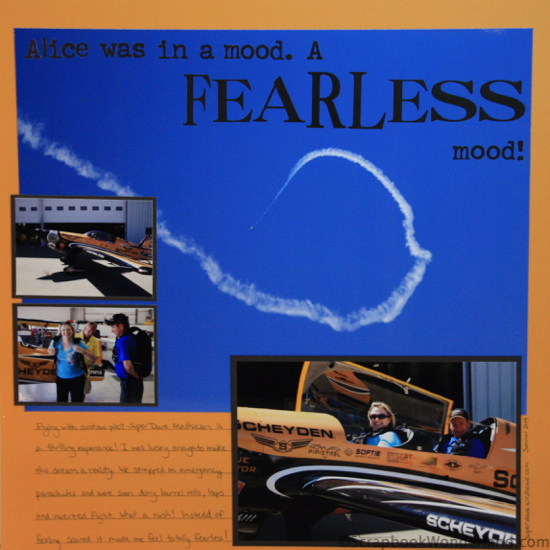 Journaling reads: Flying with airshow pilot Super Dave Mathieson is a thrilling experience! I was lucky enough to make this dream a reality. We strapped on emergency parachutes and were soon doing barrel rolls, loops and inverted flight. What a rush! Instead of feeling scared it made me feel totally fearless!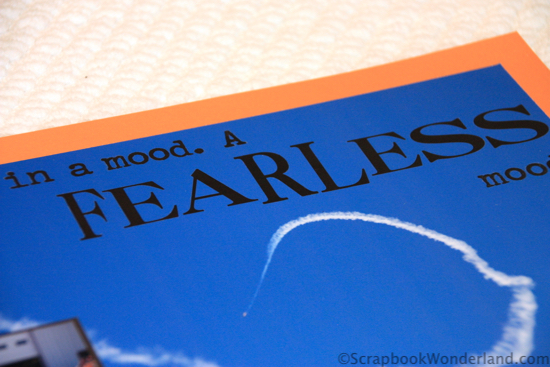 Watch the video!
Did you know that Super Dave is one of the featured pilots on the new Discovery Canada TV show, AIRSHOW? The show covers the adventures of several airshow pilots as they strive to excite and entertain airshow audiences. I'm loving the show, so if you haven't seen it yet I recommend it.
Back to scrapbooking…
Have you ever wanted to add a video to a scrapbook page? You can! Check out this tutorial HERE.
If you have questions about scrapbooking I'd love to help. You can contact me HERE or connect with me on Facebook.
Thanks for visiting and go have a fearless day!
Alice.