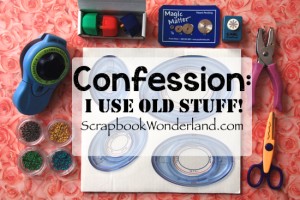 If you've been here before you'll know that I have a passion for scrapbooking. You'll also know that I love sharing tips and tricks to help other scrappers make pages that they love.
But did you know….
I use old supplies, and tools ALL OF THE TIME!
I even share old layouts. Layouts I made 5, 10 or even 15+ years ago.
It's true. Here's proof.
Now you might be thinking, "Gee, get with the times!" Or "Why would you show me pages that are dated and old?"
I'll tell you why.
I share pages that have good ideas, cool techniques, or awesome journaling tricks.
I'm not going to pretend that every page I create is a design masterpiece that is worthy of a scrapbook magazine (if you're looking there still IS one, it's called Canadian Scrapbooker and it's great).
My designs are good. I follow some rules, sometimes. But that's not the point.
I want you to see real pages. Pages that anyone can make. Layouts that don't require $20 worth of products. Layouts that share real life.
My life isn't perfect. Neither are the pages I create.
I consider myself to be a pretty good speller. My grammar is decent, but I certainly won't win a "best grammar on the Internet" award. But you know what? (Yes, I did just start a sentence with the word 'but'. Get over it.)
It doesn't matter! It took me a long time to learn this. I've made pages that have glaringly obvious spelling mistakes. I used be very worried about it and I'd go back and fix the mistakes when I found them, but I don't anymore.
Now, I scrapbook in the present. I don't have time to go back and redo things I have finished! I'm looking towards the future and capturing the stories from our lives right now. Is a spelling mistake a make it or break it problem? No!
I use old supplies because I have them. I don't worry about the trends, although who doesn't like to buy some new stuff? I mix a bit of the new in with the old and keep going. I want to create pages that matter, not pages that are fabulous because they are defined by the current design aesthetic.
If you want to get real with scrapbooking, you want to tell your stories, you want to use supplies that are old, new and somewhere in between, then I think we'll be friends. I'll show you the tricks I know to make pages that you love, and we can both move forward capturing the stories of our lives for our scrapbooks.
When I think they are a good fit I'll share old pages. If you want you can laugh, I do! The great thing about scrapbooking is that it changes with the times. We have new products to play with and new techniques to try. This allows us to get creative and play while we enjoy the beautiful stories that make up our lives.
Are you ready? Let's get scrapping!
Alice.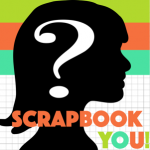 P.S. If you are ready to tell your own story and want to make a scrapbook all about yourself : Scrapbook YOU!