Hey! It's Friday. Normally I like to share a fun scrapbooking quote, but today I have something else that will make you chuckle. I scrapbooked a funny story, and I'm happy to be sharing it here today, with my son's permission! Lol! 😉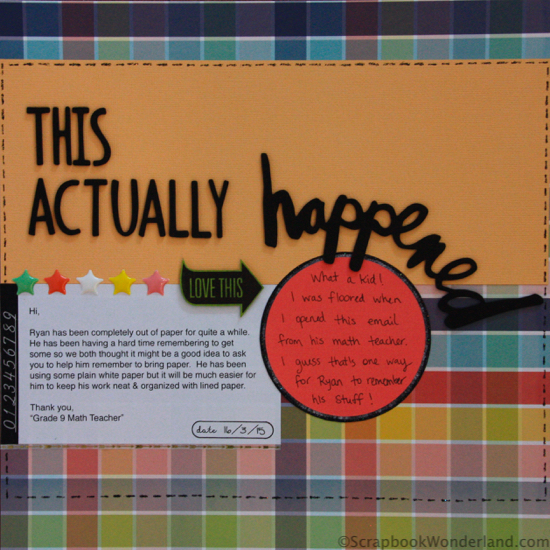 Journaling reads: What a kid! I was floored when I opened this email from his math teacher. I guess that's one way for Ryan to remember his stuff!
Hi, 
Ryan has been completely out of paper for quite a while. He has been having a hard time remembering to get some so we both though it might be a good idea to ask you to help him remember to bring paper. He has been using some plain white paper but it will be much easier for him to keep his work neat and organized with lined paper. 

Thank you, 

Grade 9 Math Teacher. (name removed)
Did you notice that I din't use a photo on this layout? When you focus on telling a story you don't always need to use a photo.
Challenge yourself to share a funny story in your scrapbooks this weekend!
Happy scrapping!
Alice.