Ah! The delight of an egg hunt! I'm excited to share with you a technique you'll be thrilled to try for your next layout!
Make it Monday (Easter Week!)
If you have arrived from Digital Scrapbooking HQ you'll have seen Melissa's lovely Easter layout, made simple with with artsy digital papers. (If not, you can pop over and check it out!) I'll share your next stop on the blog circle at the end of this post.
Having Fun with Eggs
Here's a fun way to create a title for your layouts!
Use a photo to create your letters.
Every year at Easter I end up with some less than stellar photos of the boys searching for eggs, but the one great photo I do get is of the carton of eggs after the hunt is over.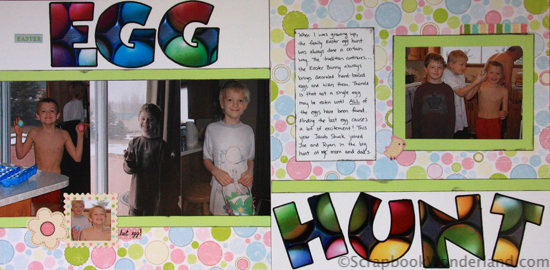 Print a large photo or multiple smaller photos to cut title letters.
To create this title I printed one large copy of the egg photo and cut it using a Cricut die cut machine. (These letters are using the "Mickey Font" cartridge.)
You could also print several photos or reprint one smaller photo multiple times.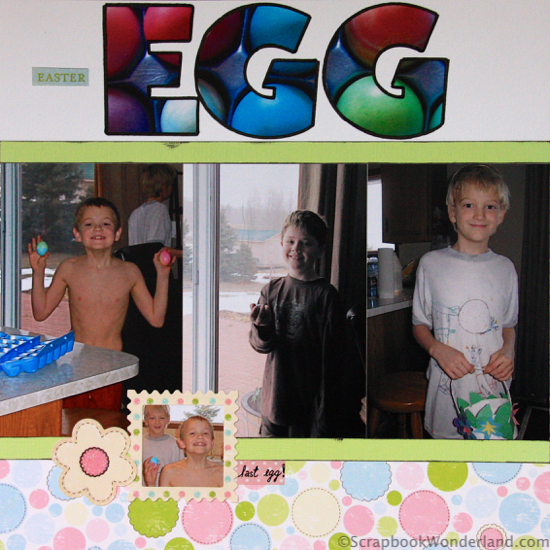 Outline the letters.
To give the title letters a bit more impact I traced around each letter with a marker. This is WAY easier than trying to matte each letter!
TIP:
Cut out sample letters using scrap paper before you cut your photos. This way you'll know your title fits and what size you'd like the letters to be.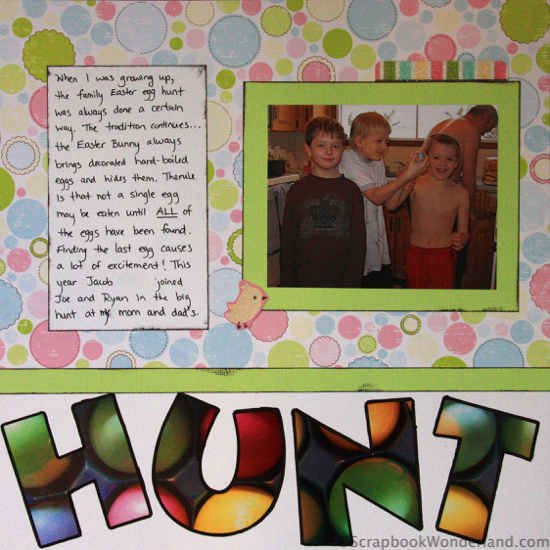 Obviously you can use this idea for more than Easter. Try photos of other groups of items to create a fun title for your layouts. Here's some ideas to get you started.
More photo ideas:
Flowers
Candies
Toys
Jewelry
Office supplies like paperclips
Christmas decorations
Do you have an idea of an item that would be perfect for a title like this? Share your ideas in the comments!
Make it Monday
Okay! It's time for the next stop on this Easter themes Make it Monday blog circle. Your next stop will help you get started with your Easter cards. It's time! Connie from Clicky Chick Creates shares an egg-cellent shaker Easter card!
Have you created a layout using photos for the title letters? I'd love to see it! Share a link in the comments or come post a page on the Facebook page!
Now go let your creativity shine!
Alice.