St. Patrick's Day will soon be upon us. We will see shamrocks everywhere and people will drink green beer and talk about getting I mean being lucky. 😉
What about scrapbooking? How can St. Patrick's Day inspire our layouts?
First let's interrupt for a second…

Make it Monday:
If you've joined me from Clicky Chick Creates you'll see that Connie was getting artsy with an easy watercolor card. Did someone say distressing?
I'll share your next stop on the Make it Monday blog circle at the end of this post.
Back to the 'Luck of the Irish'…
Here's a quick page prompt that will get your journaling flowing like Guinness in an Irish pub.
Prompt:
Everything has a story. Tell the story of an object or item in your life.
This is the story of my lucky shoes.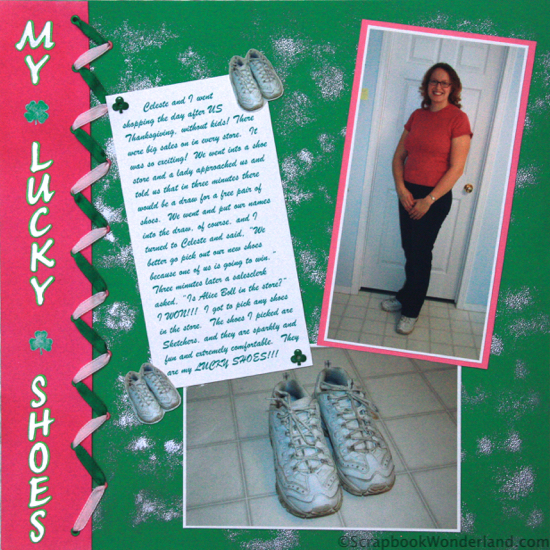 Journaling reads: Celeste and I went shopping the day after US Thanksgiving, without kids! There were big sales on in every store. It was so exciting! We went into a shoe store and a lady approached us and told us that in three minutes there would be a draw for a free pair of shoes. We went and put our names into the draw, of course, and I turned to Celeste and said, "We better go pick out our new shoes because one of us is going to win." Three minutes later a salesclerk asked, "Is Alice Boll in the store?" I WON!!! I go to pick any shoes in the store. The shoes I picked are Skechers, and they are sparkly and fun and extremely comfortable. They are my LUCKY SHOES!!!
Bonus Prompts:
Scrapbook using the colour green
Create a monochromatic green page.
Scrapbook something lucky.
Tell a story about winning something.
Share a story of celebration.
Design:
I was scrapbooking shoes so to be creative I used a shoelace design on the page!
The background on the green paper is embossed with silver embossing powder. I pressed an ink pad directly to the surface of the paper in random blotches, poured on the embossing powder and melted it.
The little shamrock and four-leaf clover stickers were way too bright and shiny, so I sanded them to dull them down a bit.
Don't be afraid to write the story first, then design your page with that in mind. If you already know how much you have to say you'll know how much room you need to tell your story. If you try to fit it in at the end you'll compromise how you tell your story.

Make it Monday:
Your next stop on the Make it Monday hop is to Digital Scrapbooking HQ where Melissa is sharing touch of green in her layout in her baby boy's album.
Geeky fact:
Did you know that a four-leaf clover and a shamrock are NOT the same thing?
The shamrock plant is a symbol of Ireland. It is a young clover and has three leaves. It is still custom to see people wear a shamrock on St. Patrick's Day.
A four-leaf clover is an uncommon variety of a three-leaved clover. As they are uncommon, finding one accidentally was thought to bring good luck to the finder.
St. Patrick's Day is a day of celebration, be sure to celebrate in your scrapbooks too! If these ideas are inspiring to you don't forget to sign up for the Scrapbook Wonderland email list!
Alice.