I was saddened to hear about the passing of Leonard Nimoy the other day.
Then I was angry to see his death overshadowed on social media by the dumb white and gold dress. (It's white and gold… get over it!) – Not sure what I'm talking about… you're lucky, but here's a LINK.
Why am I so sad about Leonard Nimoy's passing? Am I a Trekkie?
I think that no matter whether you are a Trekkie or not (I'm not obsessed, so I guess I'm not.) you have to appreciate the effect the character of Mr. Spock has had on our culture.
People often quote him… or at least his character.
"Fascinating is a word I use for the unexpected. In this case, I should think "interesting" would suffice."
-Spock in 'The Squire of Gothos'
"There is no reason that function should not be beautiful – in fact beauty usually makes it more effective."  -Spock
"Creativity is necessary for the health of the body." -Spock

"That is highly illogical." -Spock
I love how Mr. Spock approached everything with logic and practicality. His austere manner and quirky characteristics showed audiences that everyone (human or not) has a place. I loved seeing a character that used his brains to solve any problem. (If you don't know I'm a big fan of clever people… here'a link to the page I made inspired by Nancy Drew.)
Several years ago my family was traveling through southern Alberta. I had heard of a small town named Vulcan, and how, in the goal of attracting tourists, they had embraced their name and made their visitor centre a Star Trek themed attraction.
If you don't know, Vulcan is the home planet of Mr. Spock.
I HAD to go!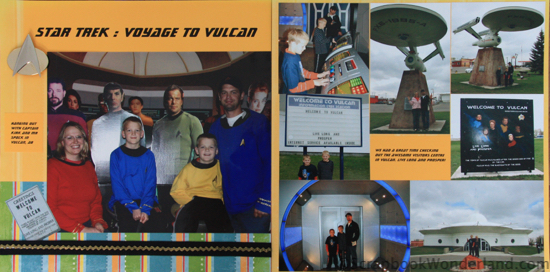 It was awesome!
The centre is shaped like a space ship. They have a replica of the Starship Enterprise outside with signs in multiple languages that say, "Welcome to Vulcan", English, Vulcan, and Klingon.
There's a large display of Star Trek artifacts and memorabilia, they have a simulator room/virtual reality room (that unfortunately wasn't working while we were there, although the staff was happy to allow me to take photos) and of course you can purchase Star Trek merchandise.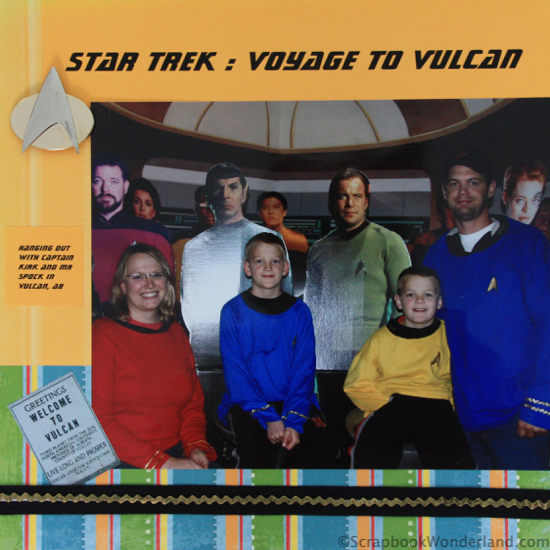 They had 'crew' shirts that you could put on for photo ops with a multitude of character cut-outs.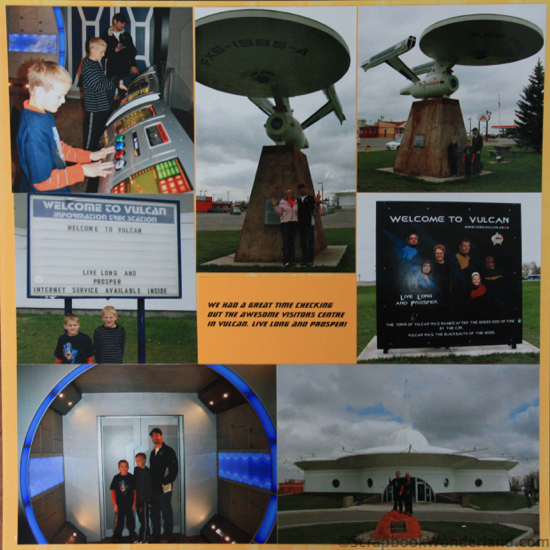 I found a Star Trek pin that I thought was cool… okay, maybe I am a bit of a Trekkie, and when I came home I wanted to add it to my scrapbook layout.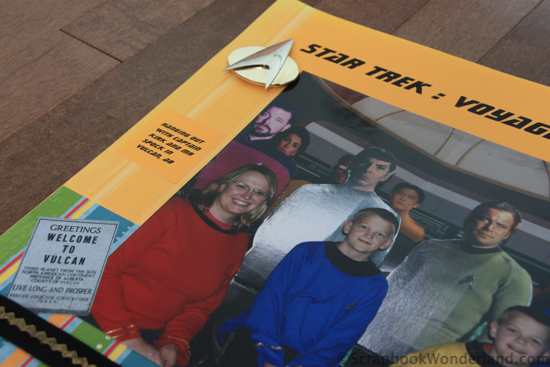 I cut off/broke off the back of the pin as much as possible then I mounted it with foam tape to my layout to help cushion any sharp parts left over.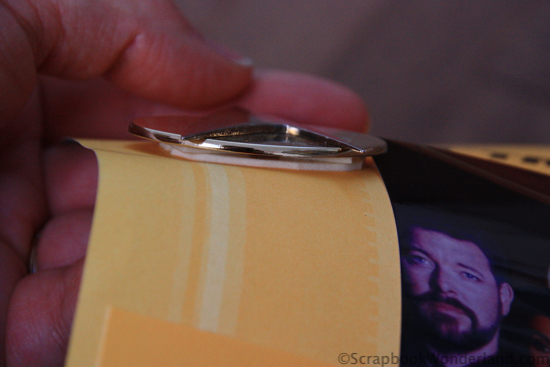 I have to give props to Vulcan, Alberta, Canada for embracing the Star Trek culture and creating such a fun place to visit!
Design Tips:
Other than the pin, which I explained above I did a couple of other cool things on this layout.
I downloaded a Star Trek font online to use for my journaling and title. There's a ton of them, so if you'd like one just Google it.
I embossed the gold braid. The only ric rac I had was white, but I really wanted to create a gold braid effect like the sleeves of the crew uniforms. I applied Versamark ink to the ric rac, then added the gold embossing powder and embossed it! It worked great… so be creative!
Want to read a touching interview from George Takei about working closely with Leonard Nimoy for so many years… it's HERE.
Thank you Leonard Nimoy for bringing such a captivating and unconventional character to life. You have captured a piece of my heart along with countless others.
If you have any Star Trek/Mr. Spock stories you'd like to share PLEASE share them in the comments!
Now, I'm going to sign off with a massive cliche, and I'm not embarrassed about it at all.
Live long and prosper.
Alice.