Layout A Day has begun again! I'm excited to be the Feature Scrapbooker for the first prompt of LOAD215! (Thanks Lain Ehmann! You rock!) 😀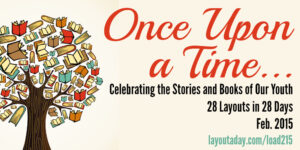 The theme for this month is "Once Upon a Time… Celebrating the Stories and Books of Our Youth", and it's a brilliant idea that opens so many doors to creativity!
Day 1 Prompt:
We all imagine ourselves as the character in a childhood book. Who did you relate to, or imagine you were?
It was easy for me to imagine myself as the main character of a book as I consider myself to be the star of my own story. I recently realized that many of the values I treasure in myself were also characteristics of my favourite heroine from my childhood, Nancy Drew. I wanted to create a page about myself that would show why Nancy Drew was such a great character for me to admire. This page shows a clue about why I became the person I did!
Let's take a look at this page I created.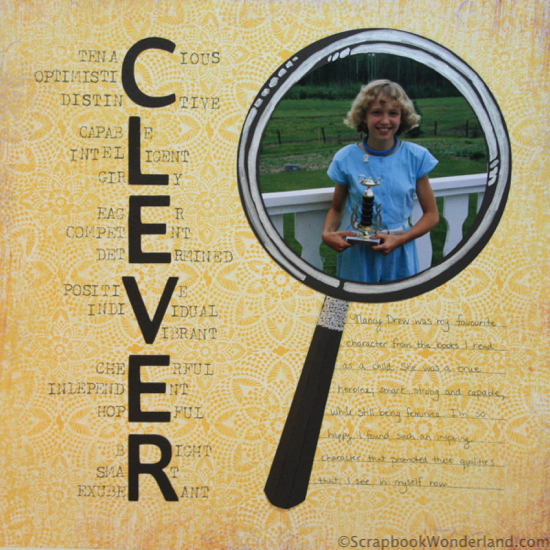 Journaling reads: Nancy Drew was my favourite character from the books I read as a child. She was a true heroine: smart, strong and capable, while still being feminine. I'm so happy I found such an inspiring character that promoted these qualities that I see in myself now.
Creative Secrets! (Title)
I had this fantastic idea for a title. I was going to use words that described the qualities I treasured in Nancy Drew that I strive to achieve for myself.
Great idea!
Now, how do you do it? Hmmmm… 😕
I started by writing down words that reminded me of Nancy Drew. This wasn't too hard as I was a compulsive Nancy Drew reader for more than a few years! 😉
Choosing CLEVER for my title was actually easy, as that is the first word that makes me think of Nancy Drew.
Figuring out how to add the rest of the words was tricky! I quickly realized that my word choices did not all start with the letters in CLEVER. That's fine, the words don't have to 'start' with those letters.
Some words were eliminated as they didn't have any letters that fit. If I really loved the word I used my thesaurus to see if I could come up with something similar that worked. (P.S. You can easily use the dictionary on your computer, or Google, to access the thesaurus, although the good, old-fashioned book version is often even better. It just is.)
As I had so many words… gee, what a surprise… I decided to use three words per letter of the title.
Finally I placed the die-cut letters and stamped out the title.
Yes, I stamped them on the background paper.
Yes, I messed up so badly once that I had to start again. Oops! 😉
Lesson:
It would have been MUCH, MUCH EASIER if I had put the letters on strips of paper, or something that didn't require stamping on the background paper. What was I thinking?! 😯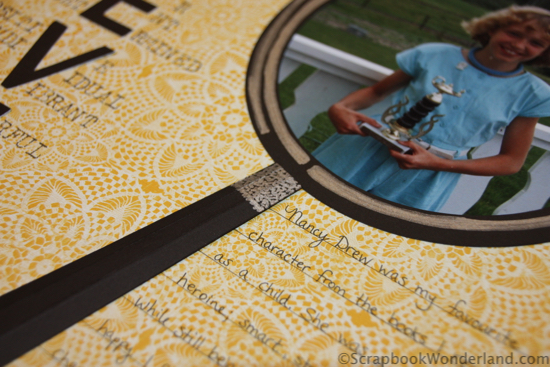 Creative Secrets! (Magnifying Glass)
When I decided I wanted to include a large magnifying glass on my layout I was a bit stumped. I created a large circle and added a photo… but it just didn't look right!
Now what? 😕
Next, I found pictures of magnifying glasses online. I finally came across one for a colouring book that I really liked. I printed it as large as I could and then used it as a guide for creating my own magnifying glass out of cardstock.
To add the shine detail to the ring of the magnifying glass I used a metallic gel pen, and copied the design from the colouring page.
To add the finishing touch I embossed lines onto the handle of the magnifying glass and popped it up with foam tape.
Bonus Prompt Inspiration
As I created this page I realized I have more Nancy Drew ideas that inspire me!
I want to create a page that talks about how I always had a couple of books on the go in my desk.
I definitely want to play with a Nancy Drew title, "The Secret of the …" or "The Mystery of…" or "The Clue of.."
I would also like to share my heartbreak of finding out there was not really a Carolyn Keene. Talk about having your dreams dashed to find out your favourite writer is not a real person! (Carolyn Keene was the name used by the group of ghostwriters who wrote the series.)
Okay! Now it's your turn. In the comments, tell me which character inspired you. I'd love to hear!
If you are participating in LOAD215 I can't wait to see how you tackle this prompt.
Like scrapbooking tips, tricks and techniques? That's what Scrapbook Wonderland is all about! Be sure to sign up for the email list, get the free gift, and regular doses of scrappy inspiration! (Use the blue and pink box below!)
Children's books are an amazing source of inspiration. In THIS POST I share tips for using design, story and pictures from children's books to inspire your own scrapbooking.
I'll BE BACK (did you say that with a Terminator voice? 😀 ) a few times this month to share more layouts inspired by LOAD215 prompts.
Let your creativity shine!
Alice.