Do you have any unfinished projects hanging around your scrapbook room?
I do!
I recently discovered that I had missed an ENTIRE YEAR in my pocket album. How did that happen?!!
I decided I'd use my crafty time over the weekend to catch up on this project.
I popped onto Facebook Live to state my intention.
In the video I shared my confession about the sorry state of my pocket album, and I stated my intention of what I would work on.
One of the best tips that help me with pocket scrapping is printing my photos at home. I have a Canon MG6620 printer. It's not the most amazing printer in the world, but it prints photos better than I can get locally, so I'm fairly happy with it.
I shared a AWESOME trick that I use for scrapbooking, adding a video to a layout. This is SO EASY to do, and makes it really fun to look through your albums. Here's the blog post that teaches you HOW TO ADD A VIDEO TO A LAYOUT.
Reality hit and I finally admitted I wasn't going to complete an entire year of scrapbooking, but I share the update about the progress I made.
Here's the Muffin Tin advent calendar I mentioned in this update.
The Layouts…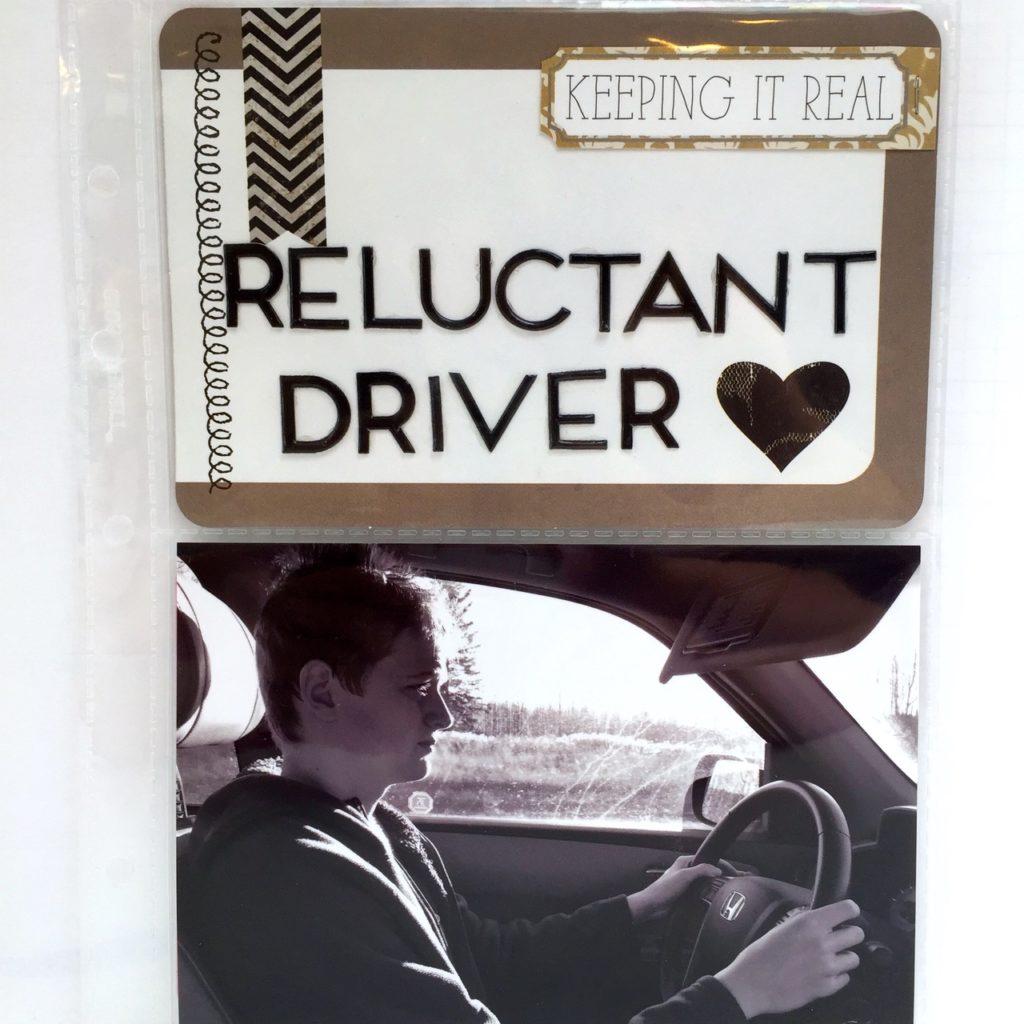 This 'reluctant driver' layout shows my son driving. I think it will be interesting to look back on this memory as he gets older. I can't imagine this will last for long. As I've previously included a bit of this story in my pocket album I may add this to his personal scrapbook.
With our family photo shoot I didn't have a lot to say. The page came together very quickly and it wasn't even that hard to decide which photos I would include.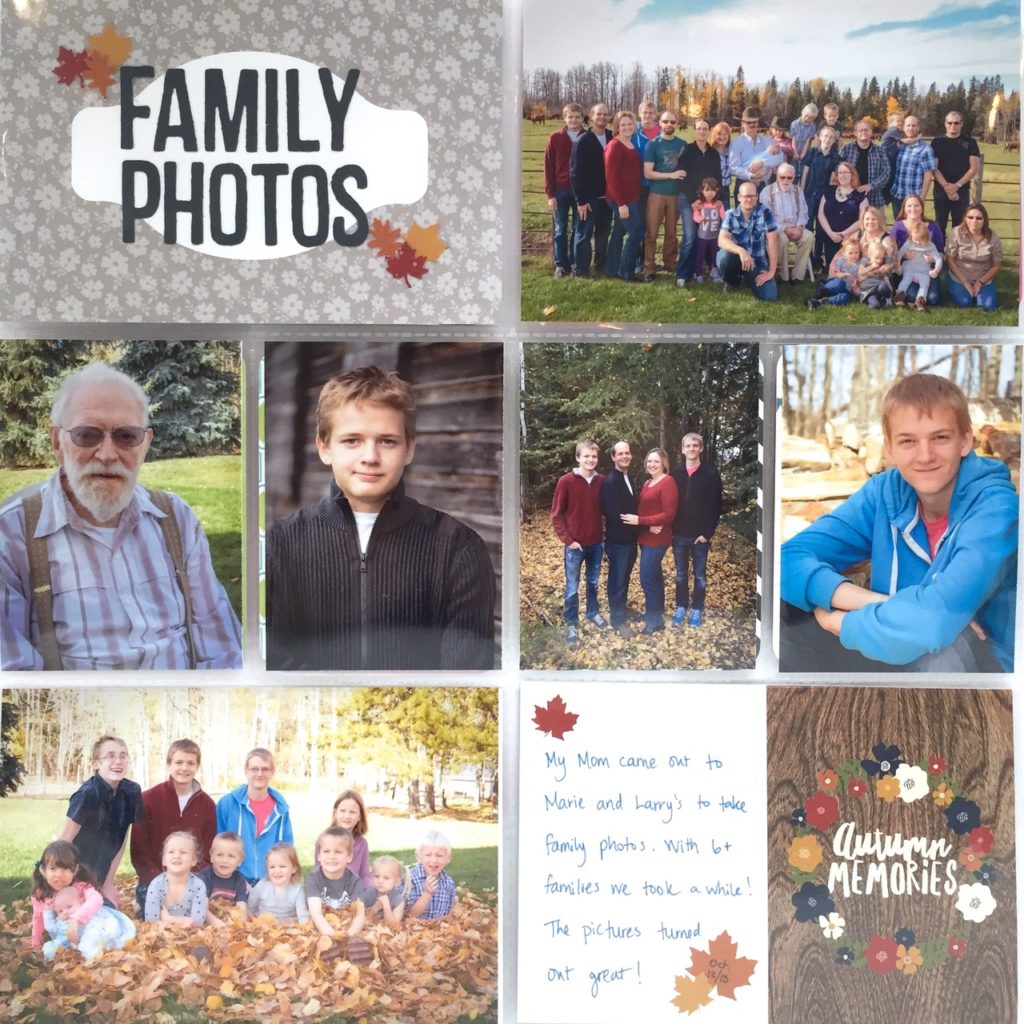 I decided to use a smaller page protector for the Halloween insert. It's a 10×12″ protector. I was able to include plenty of fun Halloween photos and talk a bit about having our Japanese exchange student here for Halloween.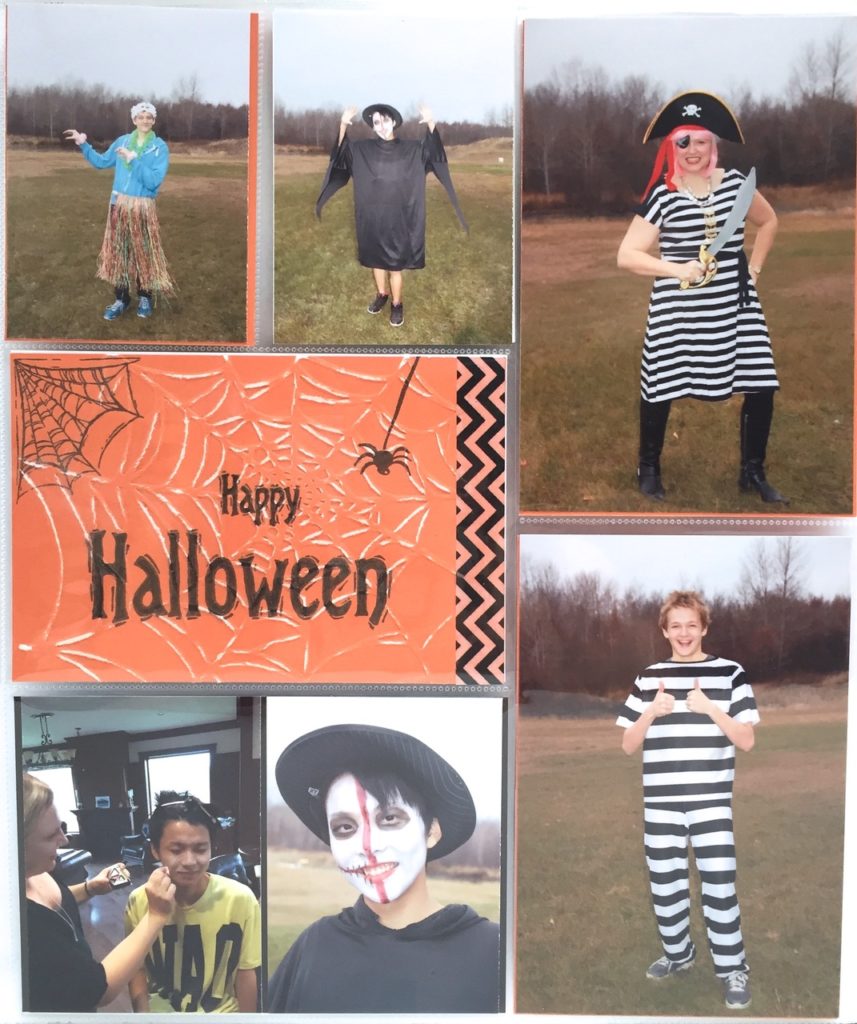 Normally we carve pumpkins at home every year, so I was a bit disappointed that we weren't able to do this. I was happy when my son gave me pics of our student carving a pumpkin at the party for the exchange students and hosts.
I have three 12×12″ layouts dedicated to telling the story of having our exchange student stay with us.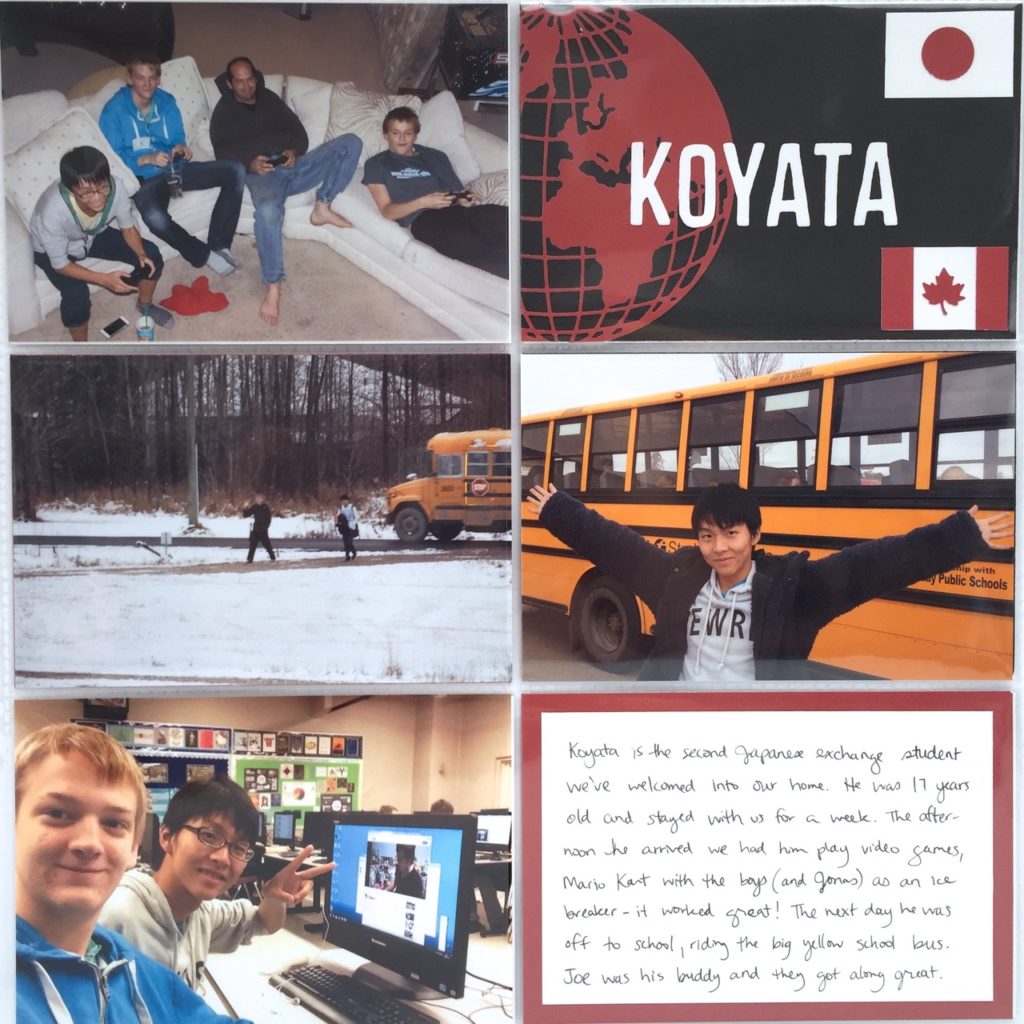 The exchange students only stay for a week, but it's a busy week. I didn't have pics of some of his events, but overall was able to show some of his experience here.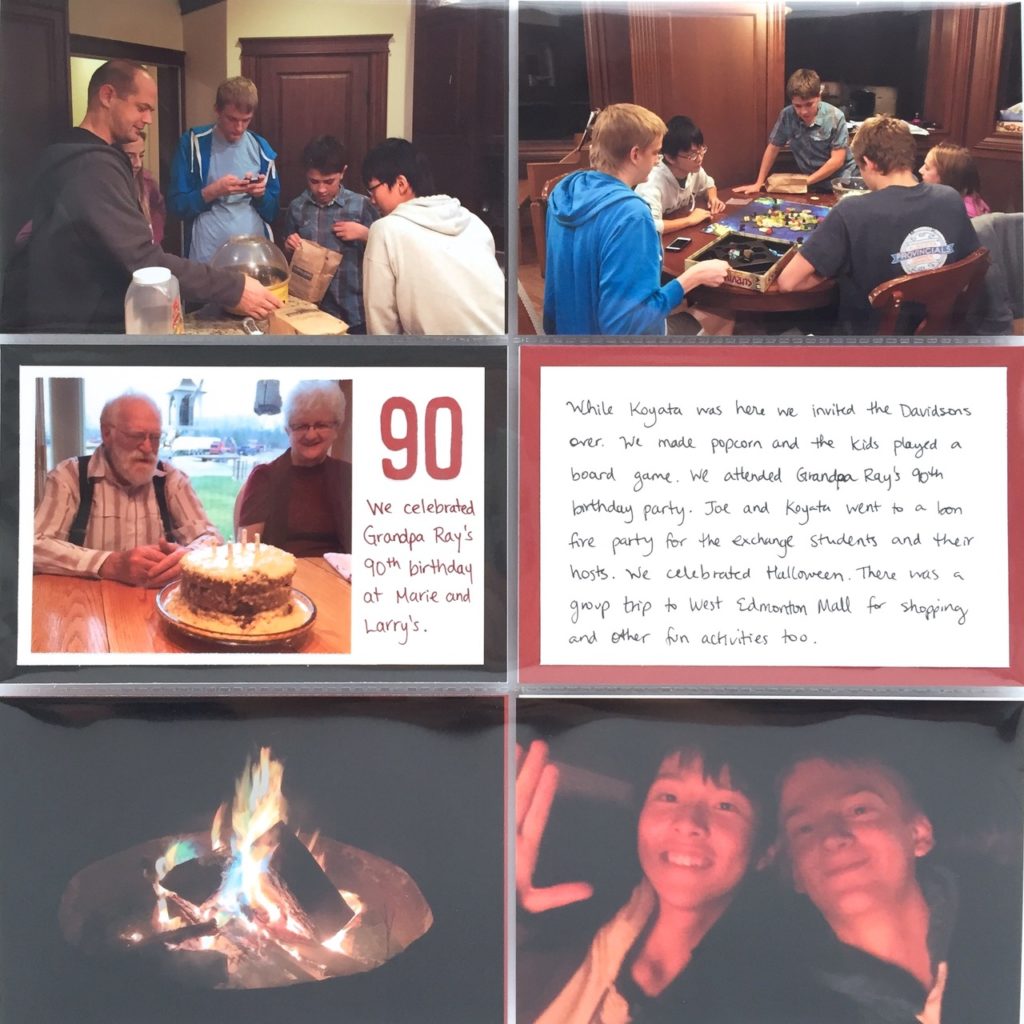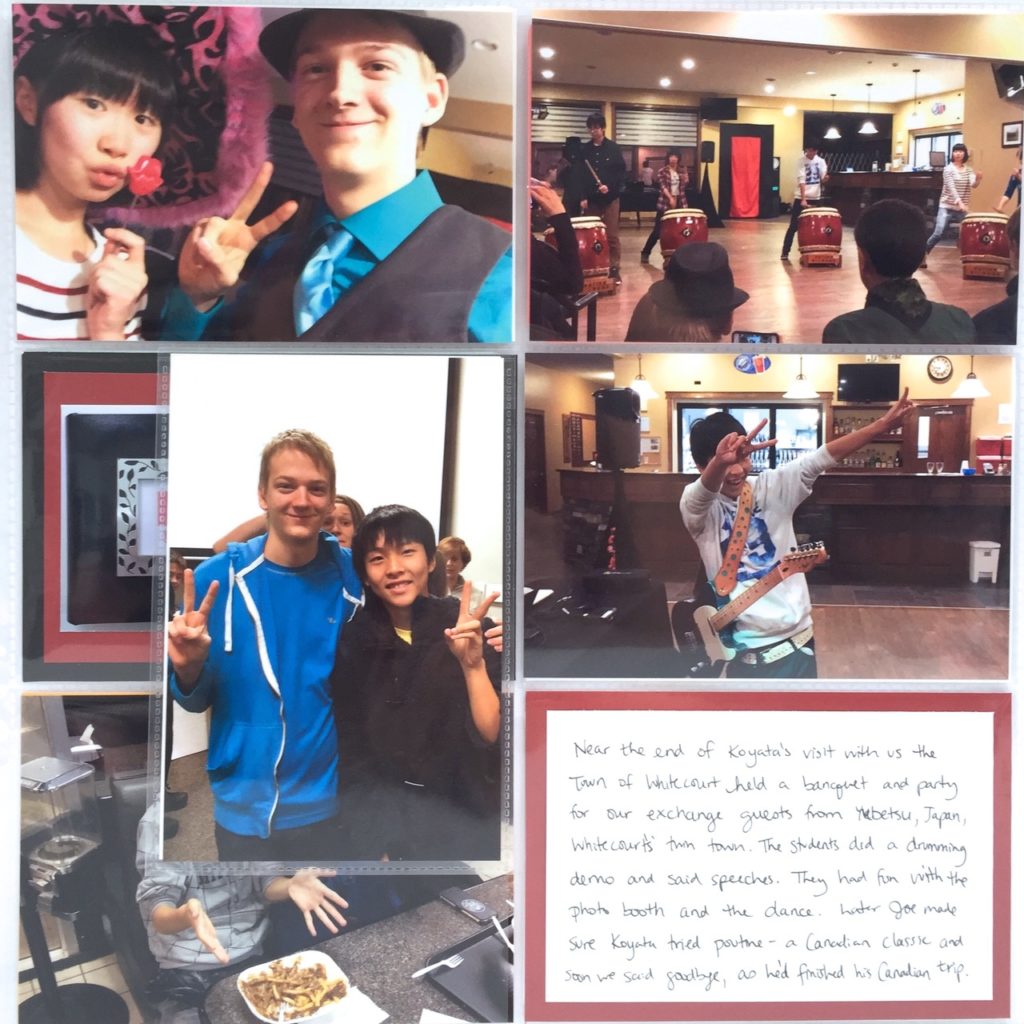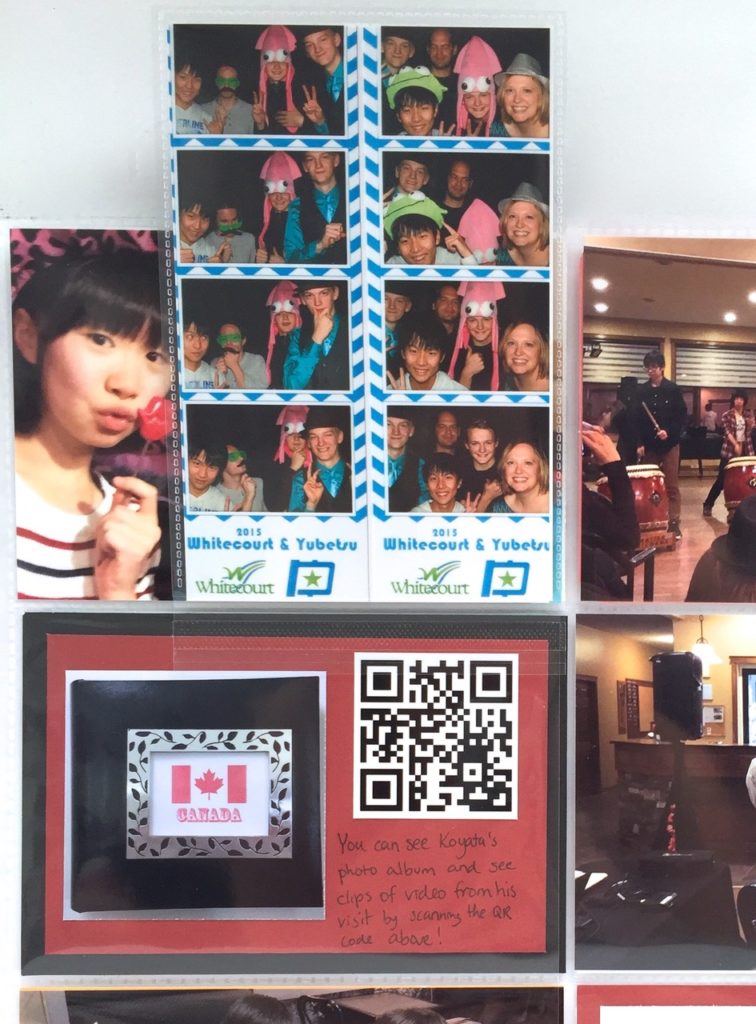 Here's the video I put together with the short clips from his trip. I do an album flip through of the photo album I created for Koyata at the end of the video.
I didn't do any fancy editing in the video, just put all of the short clips together in iMovie and uploaded it to YouTube. By keeping it VERY simple I was able to get it done so it could be included.

I started the month of November with a 12×12 layout.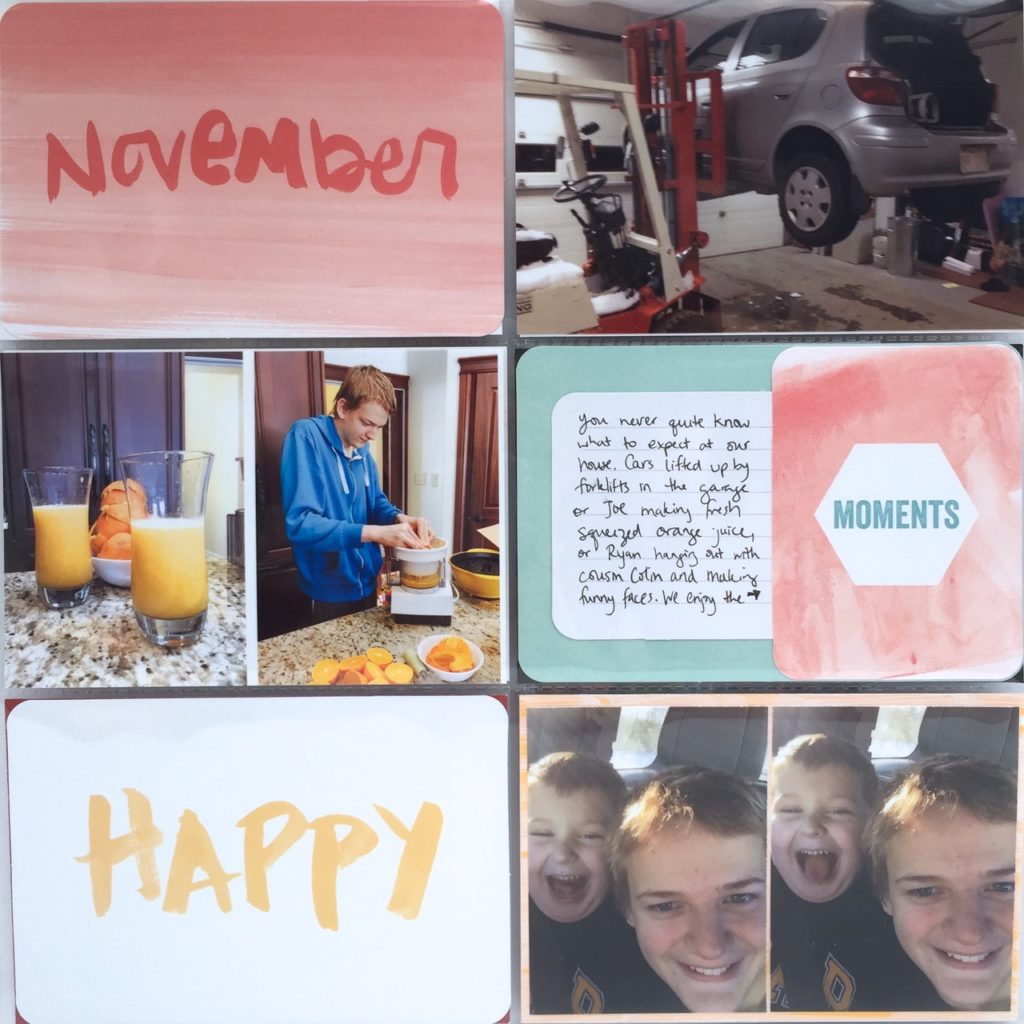 Then I printed this digital layout I'd made in the Project Life app as an 8.5×8.5″ layout. (It's mounted on 9×9″ cardstock to fit into a page protector.)  I may add this to my son's album, but maybe I'll leave it here and print it again for his album… the bonus of having a digital layout!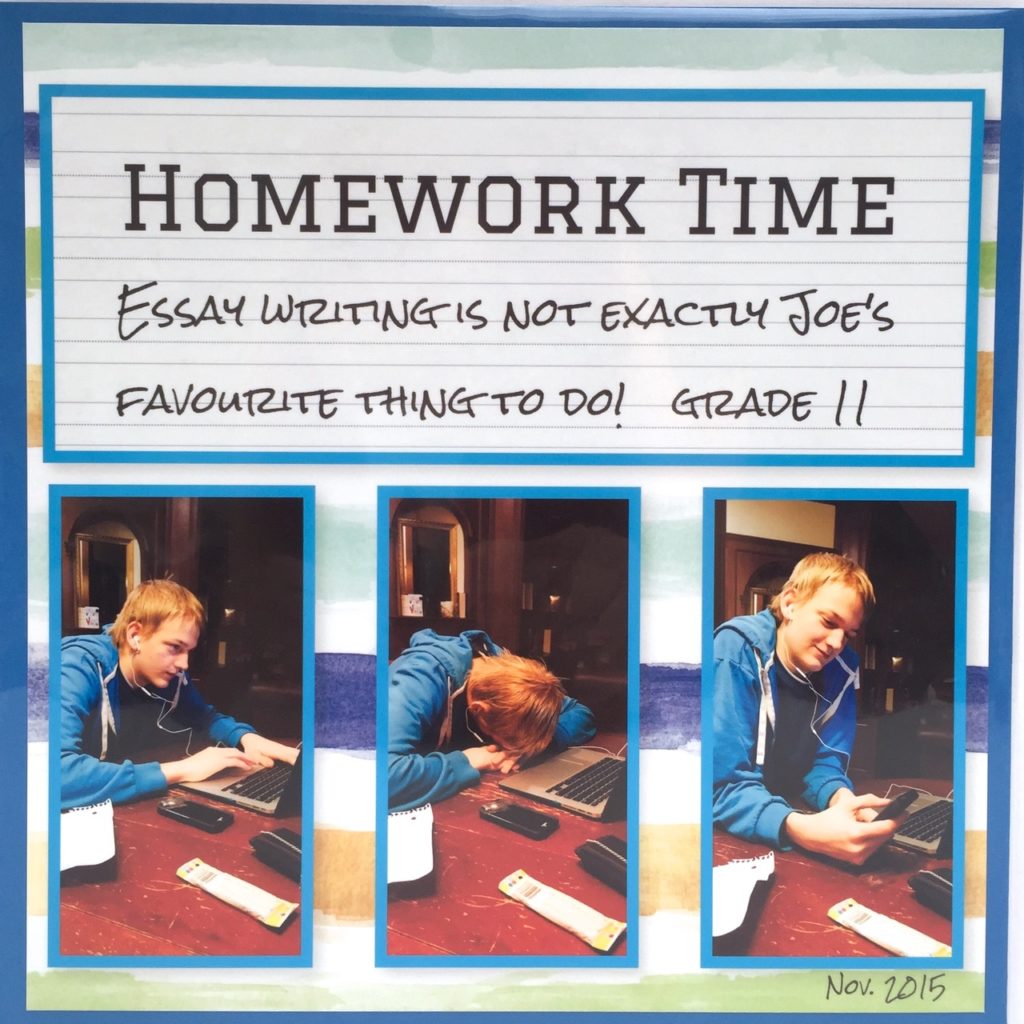 I've used a 10×12″ page to include a snowshoe trip in the mountains. I loved that I could include so many photos from the trip. The 10 little square photos are just a bit smaller than 2″ square and document my progress as I make the climb up the mountain. I've wanted to scrapbook about that journey so I'm glad I've finally done it!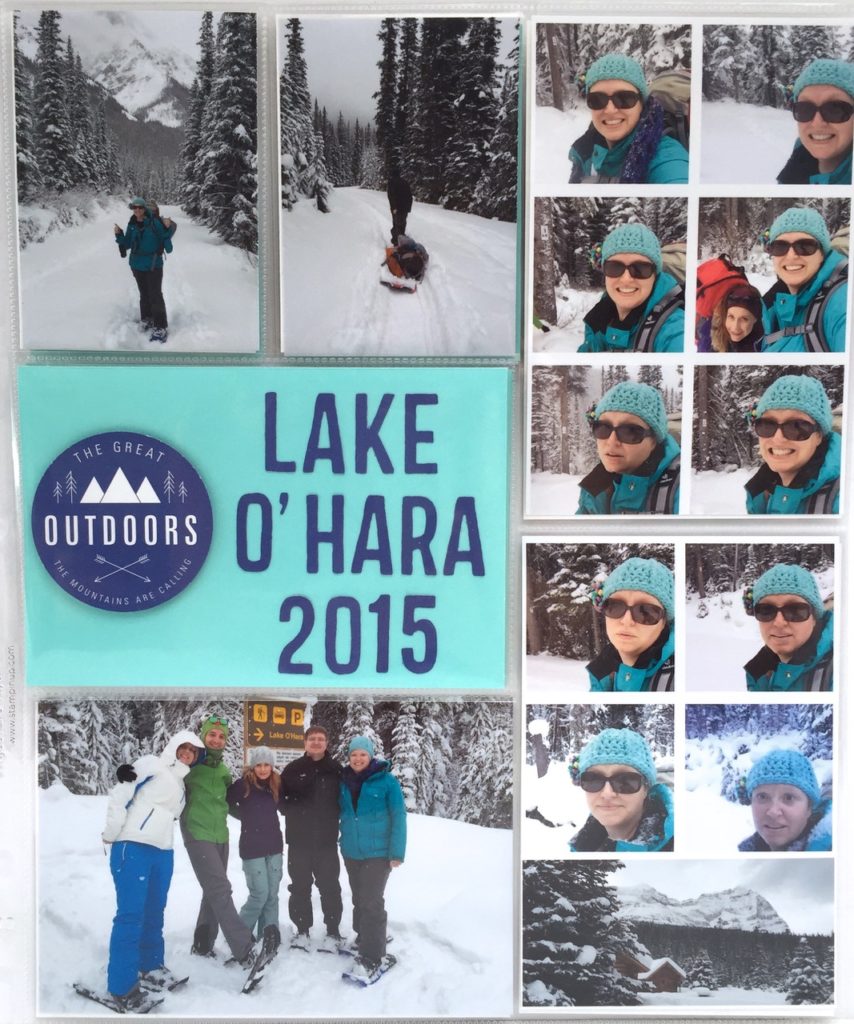 Under a flip flap (they are from Close to My Heart) I have more journaling and a QR code with a link to a video I put together with clips from our mountain adventure.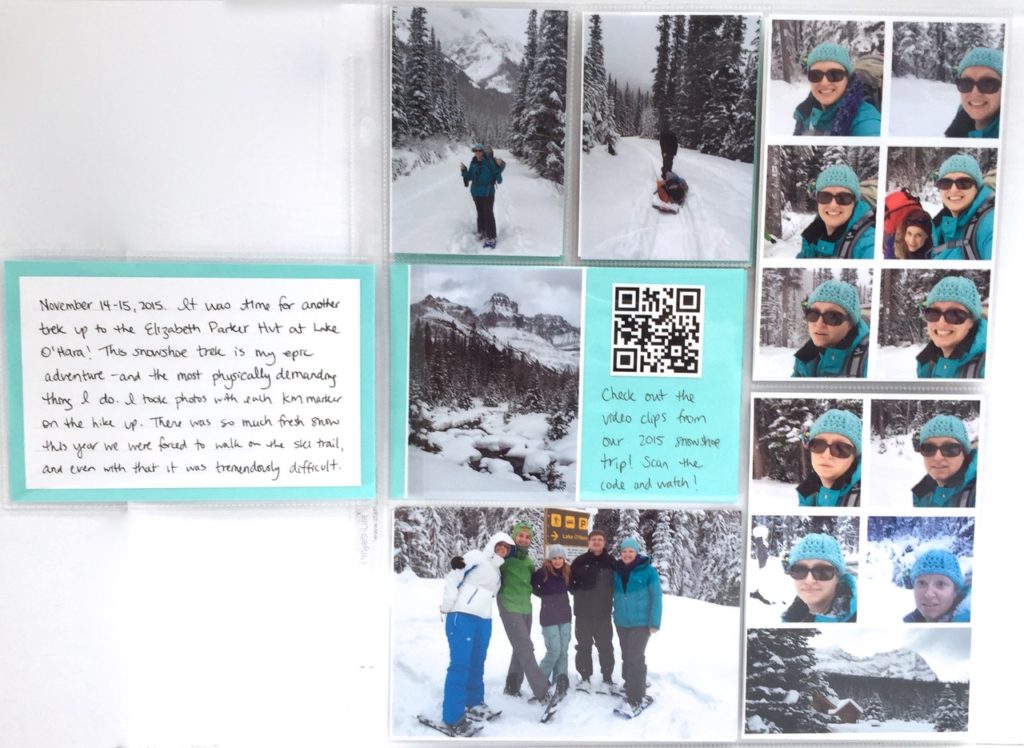 A few more pics and this layout was done!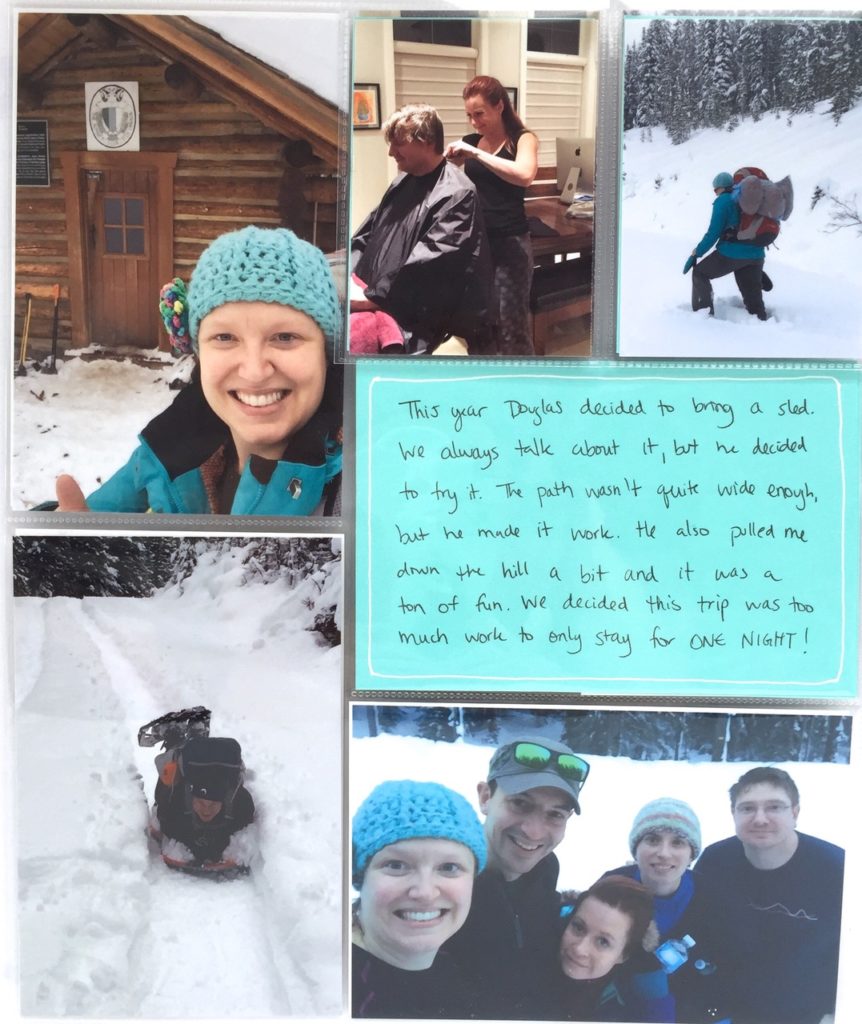 Finally, I finished off the month of November with a few more random events. That's one of the things I LOVE about pocket scrapping, I share more random stories than I do on my traditional layouts. I can't imagine giving up my traditional pages, but I love how by doing both methods I'm able to include such a diverse look at our life.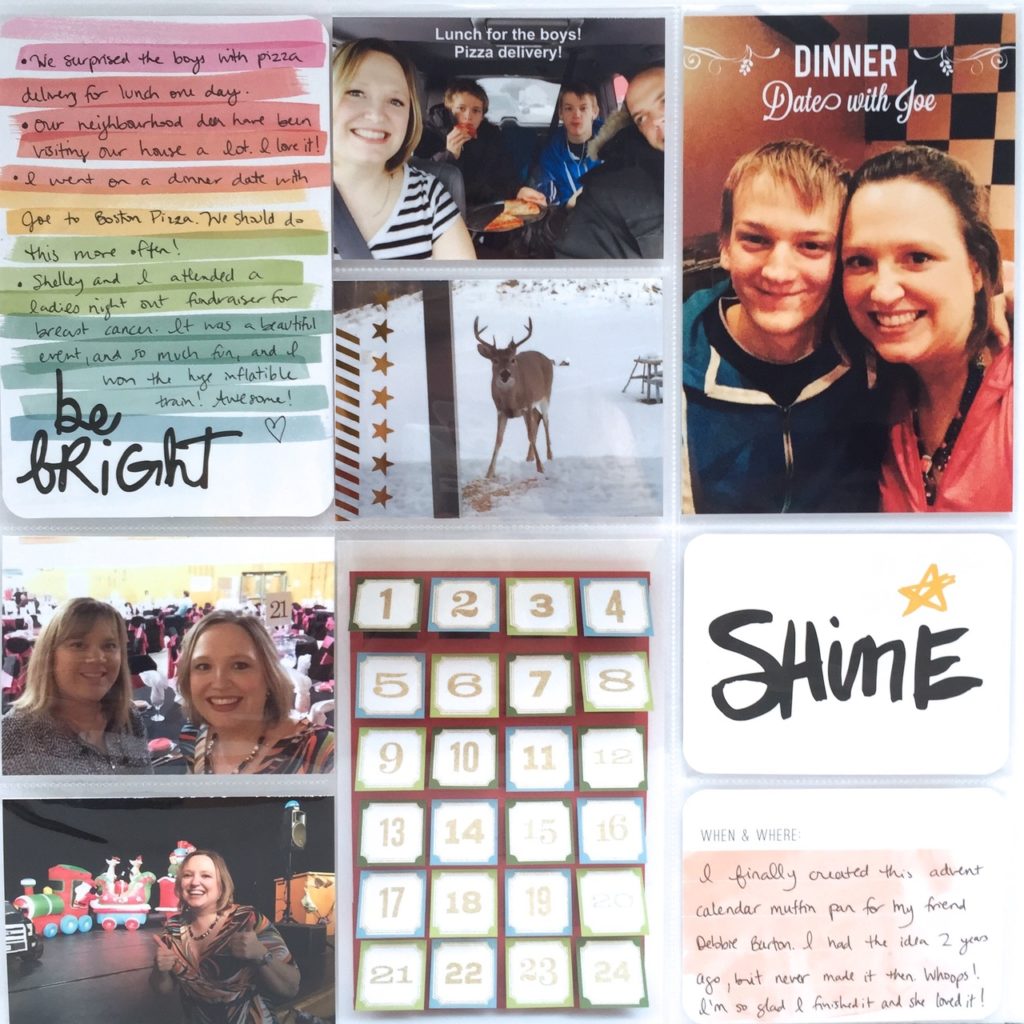 My Thoughts…
In the end I'm happy with the progress I made. I might have 'only' scrapped two months, but as you can see they were filled with many fun activities and adventures which were so much fun to include.
Looking at these pages makes me more determined than ever to go back and finish more of the missing year, and especially determined to stay on top of my current pocket pages so I don't have this problem again!
The Plan…
I actually have a super-smart plan to get my pocket pages done. Once a month I host an online scrapbook crop. It's a free event, I scrapbook live on video and other scrappers from around the world join me. I create a 12×12 layout and a pocket page using kits from Gossamer Blue. We also have a draw for a kit from Gossamer Blue for one lucky attendee.
Want to join me for the next scrapbooking crop? Join the Scrapbook Wonderland EMAIL LIST to receive the links to these fun events!
Happy scrapping!
Alice.