This prompt will have you adding fun and creativity to your scrapbook pages!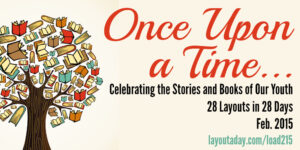 I'm thrilled to be a featured designer this month in LOAD215.
(Did you miss the last one of my featured layouts? Check out my wild ride on FEARLESS.)
Page Prompt:
Day 24 of LOAD215
Pop-ups are a common attraction in kids' books. Add a 3-D element to your page.
We had a few special pop up books that I loved as a child, but instead of trying to capture them I thought it would be fun to play with something popping off of my page! Everyone knows the fun photography trick of holding your fish closer to the camera to make it look bigger, but I decided to take it one step further by springing the fish right off the page! I simply printed a duplicate photo, cut out the fish and mounted it on springs!
Journaling reads: Although he seemed an unlikely fisherman, Joe really enjoyed fishing on our Canada Day weekend camping trip to Lesser Slave Lake. He sure was excited to reel in his fish and he was proud to show off his big catch! July 1, 2012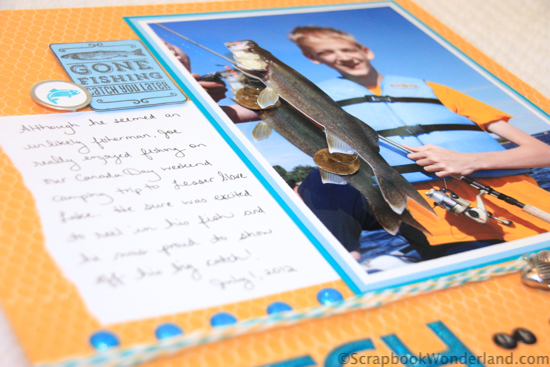 Creative tips!
On this layout to create the pop-up fish I duplicated the photo, cut out the fish and mounted the fish on springs (from Close to My Heart) over top of it on the original photo.
I thought it was fun since it makes the fish jump out of the page.
It's a fun new update on the old art of paper-tolling.
It reminds me how many fisherman hold the fish out in front of themselves so it will look larger in the photos!
Think outside the box. The stamp I used for the background is a chain-link fence stamp. When I used it here it looks like fish net.
Fun ideas:
How to Emboss with Stamps (with Video)
How do you apply it?
Unleash your creativity! What can you do to add interaction and originality to your page?
Play.
By playing with your tools, supplies and photos you will have more fun and create pages that not only tell a story but are fun too!
If you think this is the kind of fun and creativity that you'd like more of you can subscribe to my email list. Click HERE to subscribe.
Alice.