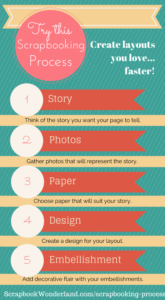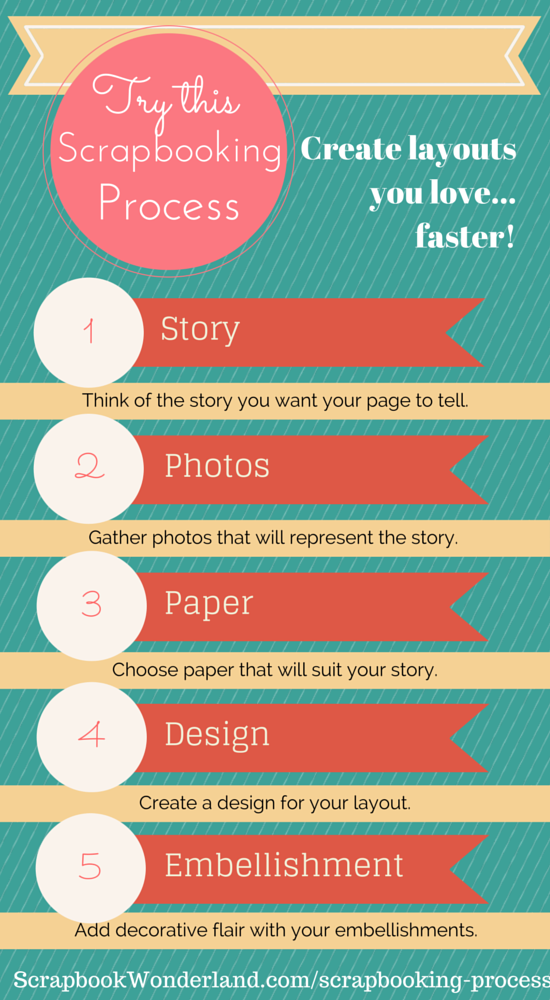 I scrapbook to share the stories of my life.
But I used to struggle to share real stories on my pages.
I wanted to create pages I truly loved but every time I grabbed my photos and started scrapbooking I struggled. I didn't know what to say. I ended up with pages that said, "It was fun!" or "So cute!".  Then I discovered how to make connections in journaling.
(You can check out it out in this blog post: Journaling Tip: Make Connections)
Making connections helped but I needed something that worked even better.
Then I found a scrapbooking process that really works for me. I'm happy to share this easy to use process in this post.
But first…

Make it Monday!
If you have arrived from Digital Scrapbooking HQ I'm sure you were inspired by the way Melissa scrapped once and printed twice, creating pages for two albums at once. (She's so smart!) 😉
Back to setting up a scrapbooking process…
How do you start a scrapbooking project or layout? Do you have a process? Do you just wing it? If you are the kind of person that flies by the seat of your pants, how is that working for you?
Are you frustrated?
Do you want to scrapbook faster?
Do you want to get things done, complete, finished?
A scrapbooking process will help!
Let me tell you a little story:
This morning I started my morning routine. I turned on the shower and then remembered I'd left something upstairs. While I was upstairs I became somewhat distracted. By the time I returned all the hot water had already gone down the drain! Doh!

I slightly tortured myself by having a shower in tepid water. I say 'slightly tortured' because it was really only a bit cooler than normal for me.

As I got out of the shower and continued with making my hair pretty and putting on makeup I suddenly realized I hadn't brushed my teeth! Eww!

My normal routine involves me brushing my teeth while I wait for the shower to warm up, yes, it really takes that long! By interrupting that part of my routine I totally missed the next step!
When I scrapbook I have a routine, or process that I use to create pages too. I'll show you how a scrapbooking process will help you to create scrapbook pages you love too.
First:
Why do you scrapbook?
Have you ever really thought about it? I scrapbook to preserve our special memories and share them with my family. I don't scrapbook to create pretty photo albums.
When I started using this new scrapbooking process I found it was much easier to create meaningful scrapbook layouts.
Why?
Here's the problem with most approaches to scrapbooking…
Here's the problem:
Most people approach scrapbooking by starting with the photos.
This can make telling your stories difficult. When you look at the photo the story to tell may not pop to your mind.
Try This Scrapbooking Process
The answer lies in step number 1.
When you start with your story, instead of starting with photos it is easier to create a layout with meaning.
Using a photo as a starting point you are putting the story second… or worse, leaving it until the end and then trying to fit it in somehow.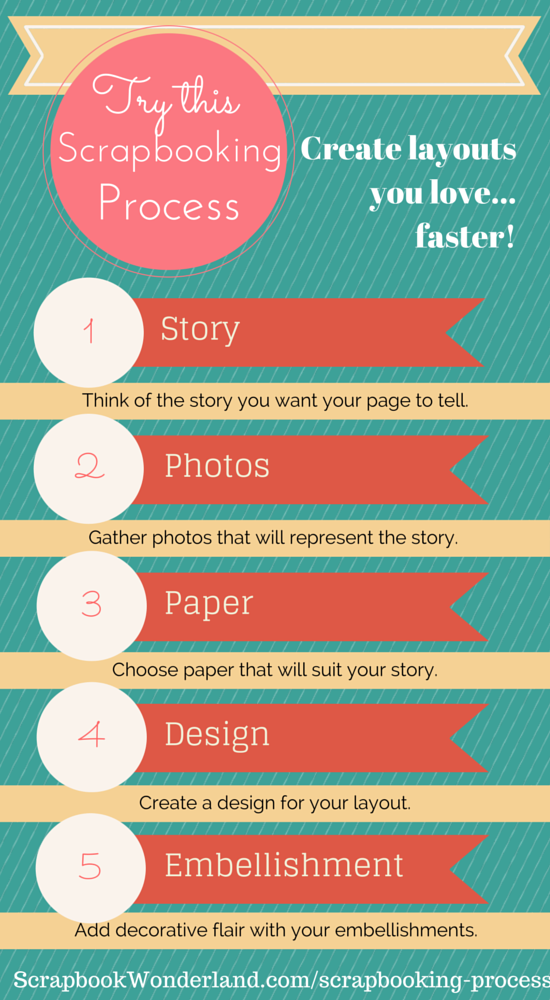 Make a quick plan. That doesn't mean knowing exactly which embellishment will go where. You just need a quick way to attack and approach a layout.
Step 1. Story
Think of the story you want your page to tell.
Step 2. Photos
Gather photos that will represent the story.
Step 3. Paper
Choose paper that will suit your story.
Step 4. Design
Create a design for your layout.
Step 5. Embellishment
Add decorative flair with your embellishments.
Can you try this process? If not… walk through your own process. Figure out your own predictable way of approaching a scrapbook page.

Make it Monday
Your next step on the Make it Monday Blog Circle has Jen sharing how to use Digi Stamps & Shapes in her Free template this week.
I hope you'll be inspired to share some stories and try this scrapbooking process.
Let your creativity shine!
Alice.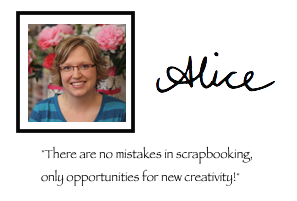 P.S. Wondering what I had to dash upstairs for? I have a super cool bluetooth speaker that I can use IN the shower! I'd taken it upstairs to recharge it!