Are your travel adventures filled with photos and stories? Perfect!
Two page scrapbook layouts are a great to document your travel. Let's talk about ways that you can use 2 page layouts for travel scrapbooking.
SPACE
Two page layouts give you a lot of space to you can include a lot of information on one page.
This may be journaling, photos or both!
BIG PHOTOS
When you have two pages you have plenty of space for a big photo. This sample layout has a large photo that spreads across two pages.
If you'd like to add a lot of impact to a layout enlargements make it easy! Here's a couple tips to keep in mind:
Try to pick a photo that has a natural place where you can cut it.
Remember, you don't have to cut the photo down the center.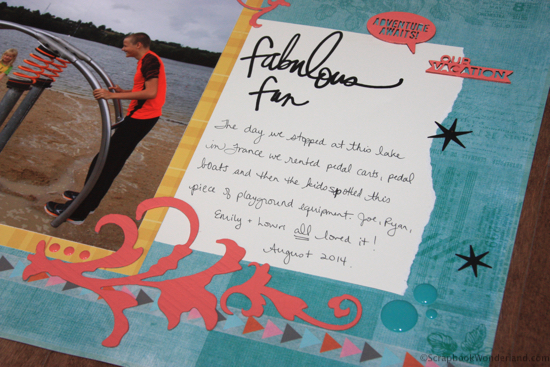 Journaling reads: 
The day we stopped at this lake in France we rented pedal carts, pedal boats and then the kids spotted this piece of playground equipment. Joe, Ryan, Emily and Lowri ALL loved it!
PHOTO CLUSTERS 
What if you don't scrapbook with large photos? How can you use this design?
You can create the feeling of photos crossing over two pages without cutting them at all!
Matte a group of photos together and divide the group over the two pages.
How do you tie it all together?
Use the same background paper on the left and the right.
Use elements that pull your eyes across the page. The washi tape in the sample layout stretches across both pages and helps you connect the two pages. Also try ribbon or strips of paper.
Use groupings of embellishments on the left and right pages.
Create a visual triangle of similar embellishments. In the sample layout the coral coloured swirls draw your eye from one page to the next.
Make it Monday
If you are hopping along the Make it Monday blog circle you'll have arrived from  Photos Kept Alive  where you found digi scrapping tips on using ephemera like maps and tickets in your digi-layouts.
Your next stop on the Make it Monday hop is to Scrapping Wonders where Beth will show you how to create a bucket travel list mixed media style.
Have a wonderful day!
Alice.