Did you miss True Scrap 6?
I felt really sad for you for a second. 🙁
Then I realized that TODAY you have the opportunity to get the individual classes from True Scrap 6 for only $9.99USD each! Wowza!
This sale is only good from January 20th to the 31st. Then the price goes back up!
Did I mention my CRAZY EXCITING news?
I taught the coolest make and take ever (if I do say so myself) at True Scrap 6.
It's called the "Pull Me Surprise".
If you've always wanted to create hidden interactive photos and journaling for your layouts THIS IS THE CLASS FOR YOU!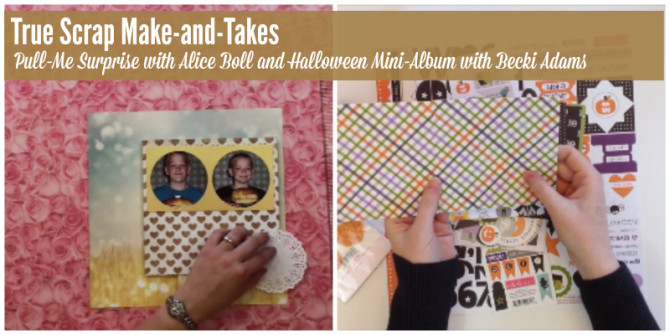 Watch this video and you'll see a sneak peek of this amazing layout in action!
Check it out now! Click the link then scroll to the bottom for the Make and Take bundle. You'll get my crazy awesome class AND Becki Adams Halloween Mini Album project too! 2 for 1!
There's more!
Of course, I HAD to tell you about my class first, but here's a short run-down of what else you missed!
Layering: Punch It, Roll It, Make It Yours – with Tracy Banks AKA Mercy Tiara
Saw This, Made That: Bringing Inspiration to Life – with Kelli Crowe
Mood-Based Scrapbooking: An Inspirational Guide – with Jennifer Gallacher
Small Details, Big Picture – with Noell Hymann (from Paperclipping)
Capture Celebrations: Photographing Food, Family and Fun – with Katrina Kennedy
Flip It, Score It, Make It, Shake It: Innovative, Interactive Mini Book Techniques – with Layle Koncar
From Pocket to Page – with Nichol Magouirk
Mixed Media Masterpieces Using Crafty Supplies – with Donna Salazar
Just so you know these classes were MEGA inspiring! I was going to tell you which one I loved the most, but… I can't decide! (I'm not making this up!)
So, now it's up to you. Check out these amazing classes and I'd love to hear what you think!
Alice.