You know how sometimes good things come at you all at once? That's kind of how I'm feeling right now!
Just when I was super excited about the True Scrap 6 classes being available for individual sale along came The Ultimate DIY Bundle.
Now, if you spent every last dollar you had at Christmas you may want to avert your eyes now, because once you see this deal you won't be able to get it out of your head!
Too impatient for me to tell you more?
Click here to check out EVERYTHING included in this bundle.

For everyone who is NOT completely impatient here's the details…
The super awesome news is that this bundle of eBooks, eCourses and Bonuses is only $34.95. It won't totally break the bank. 😉
Do you want to hear the REGULAR price on these items? Over $1200!
Seriously!
That's because there's 76, yup, seventy-six eBooks and eCourses included. Heck, the bonuses alone are worth triple the cost of the bundle. (uh oh! I just said 'Heck'!)
What's in this Ultimate DIY Bundle you ask?
There's stuff for: Crafts, Holidays and Seasonal, Home and Garden, Home Decor, Photography, Scrapbooking and Art Journaling, Sewing, the Business of DIY, Writing… did I mention SCRAPBOOKING AND ART JOURNALING?
I did? Good.
If you wanted all of these eBooks and eCourses you'd probably have to spend a week just hopping from website to website entering your payment info! (That's why bundles rock.)
Want to see what's in The Ultimate DIY Bundle now? Click HERE.

I Know These People!
If you've been hanging out in Wonderland here with me you may have noticed I love sharing cool stuff that my online friends do. These gals make great stuff and I am happy to share it.
Several of my online friends have contributed to The Ultimate DIY Bundle.
Melissa Shanhun from Digital Scrapbooking HQ
Kristie Sloan from Arftul Adventures
Beth Soler from Scrapping Wonders
Mary Moseley from Be Photo Wise
This gives me great confidence in sharing this bundle. I know how hard my friends work to make sure they produce the best possible courses and information.
There's Always a Catch!
As with most great things there's always a catch, but fortunately this one isn't too bad, if you hurry!
The sale of the bundle is ONLY until 11:59EST on Monday, January 26th. Then it's gone. You'll be too late. Sucks to be you. (ooh… that's harsh!)
Good News
You can feel confident in your purchase. If for some reason you don't think you got enough value out of your purchase you have 30 days to get a full, 100% refund. Get more details on the sales page.
Why are you still here?
Just kidding! If this isn't for you… that's fine. Maybe you just aren't a do-it-yourself-er. Maybe you really did spend all of your money at Christmas. That's okay. I'll be back soon to share more great scrapbooking tips, tricks and techniques with you. (Are you on my email list? It's FREE. Sign up here.)
Let your creativity shine!
Alice.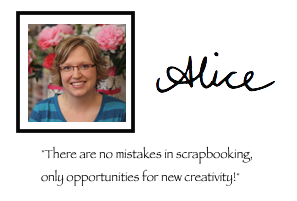 This post contains affiliate links! If you purchase I will make money. It won't cost you extra, but it will allow me to continue haunting this part of the internet and sharing awesome scrapbooking tips, tricks and advice!