Happy International Scrapbooking Day!
I have a challenge for you.
Come join me and the ScrapGals in a day of scrappy challenges and fun.
I will update this post as I play along today.
Challenge #1.
Tiffany and Tracie started the day with their challenge. They had invited the ScrapGals community to suggest ideas for a layout challenge. Then they drew 3 ideas and incorporated them into a layout!
Here's the challenges:
Use cream and less cream. (You know how there are many shades of cream… today you will combine them!)
Use a quote from an 80's movie or song.
Use three different colours of mist or paint.
Here's the layout I made for this challenge!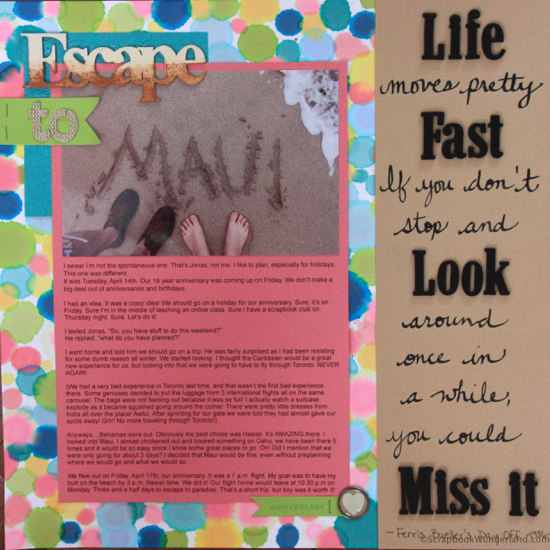 I made the background paper earlier this week using diluted re-inker with an eye dropper. There is some cream and less cream… this was the hardest part! I also used a quote from one of my favourite 80's movies, Ferris Bueller's Day Off.
Challenge #2
Jen Schow gave us the next challenge. We needed to use our 6×6 paper packs to create a layout!
Here's a link to her video demo: Designing with 6×6 papers VIDEO
This is the layout Jen creates in the video:
Here's the layout I created using 6×6 papers and featuring my new pink hair. I found a kit from an old class I had taken… um… many years ago… that had two 6×6 paper packs. They are Making Memories brand, which has been gone for a long time. Isn't it great that we can take old product and make it look brand new?
I based this layout design on one of Jen's from her 6×6 paper pack love video series. Her layout was called Sodalicious. One of the coolest things is that I sewed! It's been a long time since I've sewed on a layout and it was so easy and I love the look of it. Why don't I do it more?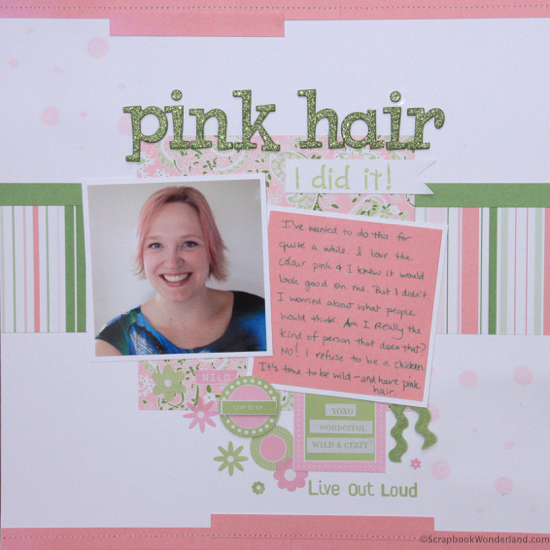 Challenge #3
Ellen Thompson might just have given me my biggest challenge yet! Her challenge is to mix alpha letters/font on a layout or card. Here's her examples: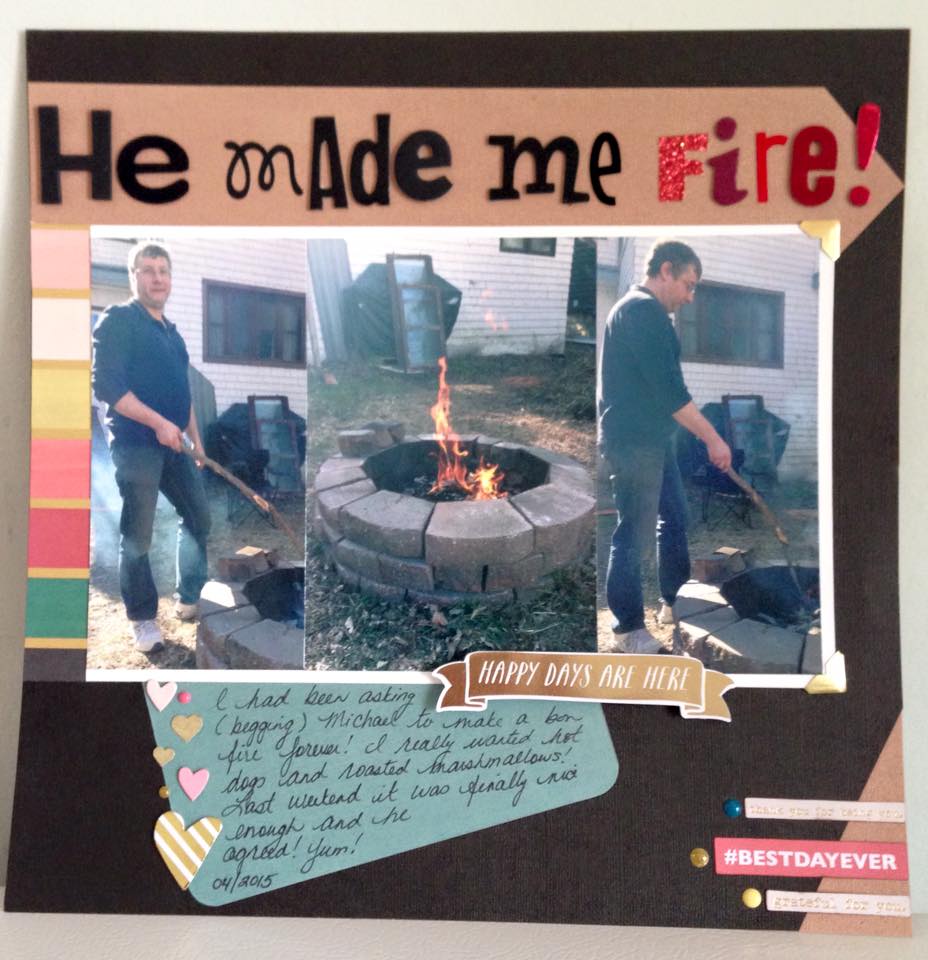 Challenge #4
MY TURN! I CHALLENGE YOU!
Your challenge is to create your own background or patterned paper. But don't worry! I won't leave you hanging! I have a ton of super-cool crafty ideas to get you playing and creating! Watch this video to get you started:
Of course, after you create your paper you'll want to make a layout!
Now it's your turn!
Come play along, there's more fun to come!
Now, go and be crafty!
Alice.