Every gal should have one. A friend you can laugh so hard with tears pour from your eyes and you start to choke and snort.
Okay, you might want to leave out the snorting.
Luckily my friend Wendy won't judge if I happen to snort a bit, so I'm fine. 😉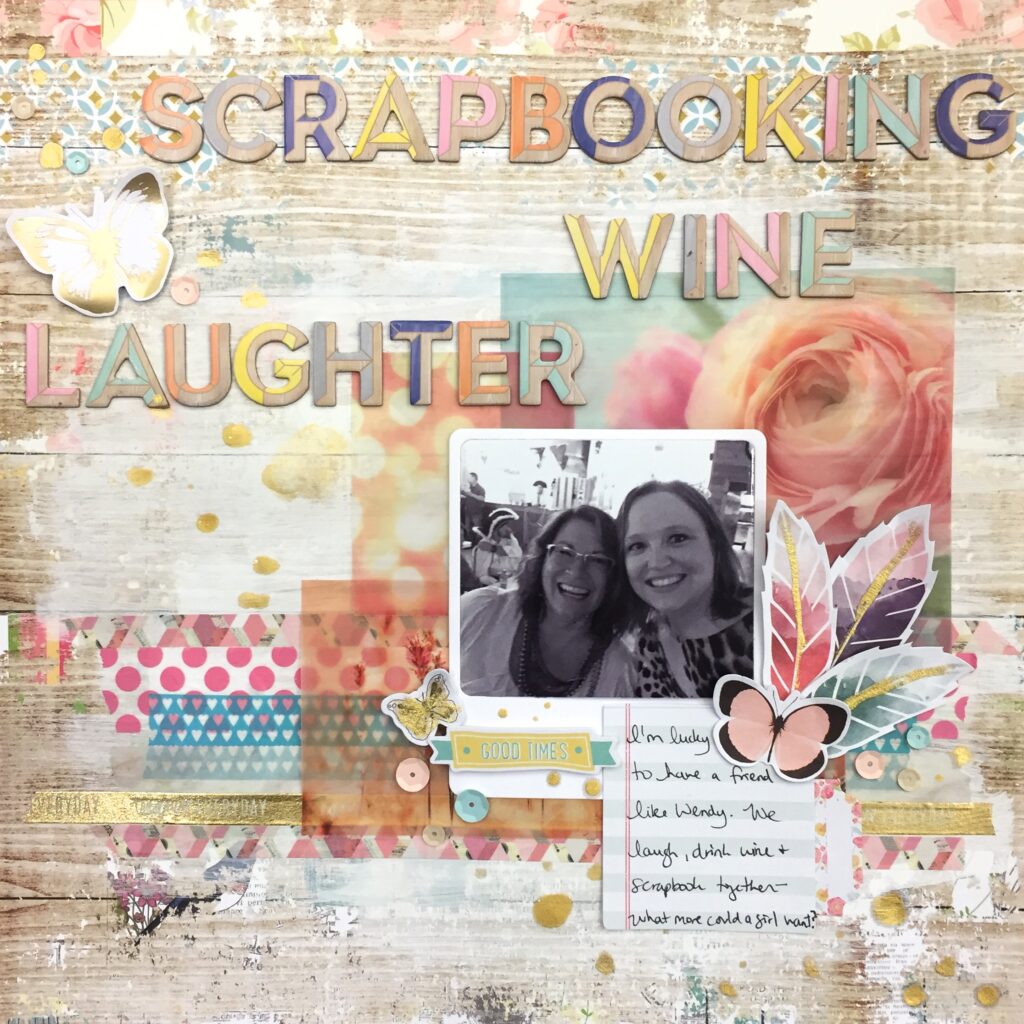 Wendy and I laugh, drink wine and scrapbook together. Often all three at the same time… aren't we talented?
How Do I Rescue this Photo?
I had this adorable photo of the two of us from an event we'd attended last year. It was taken with a cell phone, in a fairly dark room. The colour was not awesome. The photo is not great resolution, it's grainy, very grainy.
What do you do when that's all you've got?
I decided to see if black and white would rescue the photo. It was a big improvement. It's not perfect, but it's much better. It allows you to see our faces and the first thing you notice is how the camera has caught Wendy in the middle of laughing, that's awesome!
Hooray for Black and White!
Now that the photo was handled I realized that by making the photo black and white it really opened up the doors for my scrapbooking options too!
I could use any colour palette! I didn't have to worry about matching anything to my photo. EASY!
Scrapbooking Steps
I found some gorgeous paper and printed vellum from Webster's Pages to use.
I arranged the vellum paper in layers and created a focal area for my photo.
I die cut a frame for the photo, so it looks like a Polaroid. (I actually used a die cut machine… yay me!)
I gessoed the background. I thought I'd write on the background. Later I changed my mind. Oh well. It just made part of the background a bit softer.
I added strips of washi tape.
I found some cute letters that I'd NEVER used before… they were finally perfect for this project!
I grabbed random embellishments from beside my desk. Sequins, die cuts and the little box for the journaling.
I finished by dropping Heidi Color Shine in gold on the page. Heads up: it took a while to dry on the gesso. I also rubbed a bit on some of the die cuts.
Voila! This scrapbook layout went together very quickly and I have a lovely page to celebrate my friendship. Now… where's the wine?
Alice.