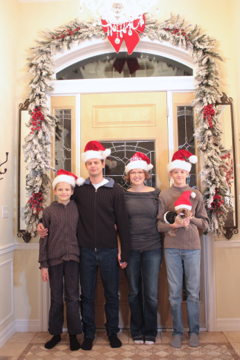 Day 20: the Family Photo
Do you send out a family photo with your Christmas cards/emails? Maybe you like to gather the family and do a fun photo shoot. My husband's family is great at lining everyone up for a group photo every time we are together for the holidays. There are many ways you might include your family photo in your scrapbook.
Photo Ideas:
The photo included in your Christmas cards
The family in front of your Christmas tree
Other 'creative' Christmas photo ideas (wearing Santa hats or reindeer antlers, wearing pj's, the opportunities are limitless!)
Take a group photo on Christmas day
Include a family photo from your childhood
Recreate an old family photo… use the same people, and a similar setting… there is lots of ideas online for this. FUN!
Journaling Ideas:
Describe the "story" of taking the photo, did anything funny happen? Who hates having their photo taken?
How did you choose your photo "theme"
Do you send the photo in your Christmas cards?
Create a quick bio of each family member (name, age, wish list item, favourite Christmas cookie, etc.)
Include a Christmas poem or quote
If you have a family photo from your childhood you can compare it to a recent photo or share a nostalgic story
If you have recreated an old family photo, share both photos together on a page and talk about the similarities and differences.
I hope you will be inspired to capture the magic of your family photo on your scrapbook pages! What is the coolest idea you've seen for a creative family photo? Share your ideas in the comments!
Join us tomorrow for Day 21: Christmas Cards