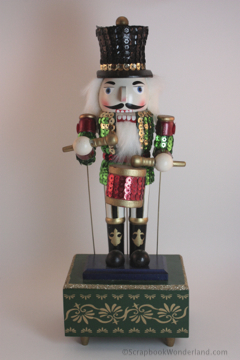 Day 13: Special Decorations and Ornaments
If you are like me you have a couple of Christmas decorations that are super-special! Perhaps it's a family heirloom, or you received it as a gift, or maybe you just LOVE it! Is it a nativity scene, a sprig of mistletoe, a music box nutcracker or a handmade decoration? Have you included it in your scrapbook?
Photo Ideas:
Photo of your special decoration
Photo of the the decoration with the person who gave it to you
Photo of you with the decoration
Photo of the place of honour in your home where it is displayed
Photo of it being set up while you are decorating
Journaling Ideas:
Why is this decoration so special to you?
Tell about how you came to have this decoration
 What is the background of this decoration
Is this an heirloom… or WILL it be?
If an ornament is handmade who made it? Can you share that on your page?
I have a few decorations that are very special to me.  Ornaments my kids made in playschool, something from my grandmother. A decoration from our favourite travel destinations.  I am going to include all of these in my Christmas scrapbook this year. How are you including your favourite ornaments?
Join us tomorrow for Day 14: Stockings