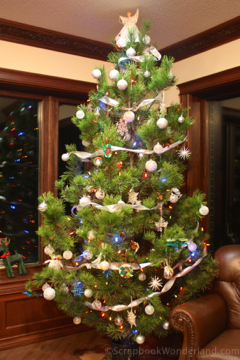 Day 12: Christmas Tree
It's time to talk about one of the most recognizable symbols of Christmas, the Christmas tree. It's common to see a Christmas tree in the background of your Christmas photos, but have you ever made it the focus of your page?  Here's a few ideas for Capturing the Magic of your Christmas Tree.
Photo Ideas:
Hunting for/Choosing your tree/Or setting up a 'faux' tree
Decorating the tree, hanging ornaments, garland and lights, and especially putting on the tree topper.
The fully decorated tree
Individual close-up photos of special ornaments on your tree.
Journaling Ideas:
Get inspired by a song… like "O Christmas Tree", this be be a great title, or use the lyrics as decorative poetry on your page.
Describe the search for the perfect tree, whether you cut your own, or shop for one. How do you choose just the right one?
Tell the story of your ornaments. Do you have special ones that represent something? Or are from someone special? Or that you received as a gift?
Discuss your tree topper. Is it a star, angel, or something else? How long have you had it? Can you imagine NOT having it? Who has the honour of putting it on the tree?
Is there a special tree that you remember from your childhood? Why was it so special?
Do you remember certain ornaments from when you were a kid? Were you always trying to be the person who put 'that' special ornament on the tree?
Although the Christmas tree if often a supporting feature in our Christmas pages, are you planning to let it 'steal the show' this year? Do you have so many ideas you might need to do more than ONE page? What kind of Christmas tree do you have? Real, fake, pine, spruce, fir, pre-lit… share in the comments!
Join us tomorrow for Day 13: Special Decorations