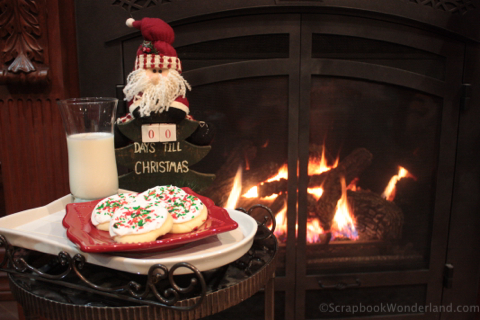 Day 15: Santa's Milk and Cookies
We always leave a sweet little treat for Santa on Christmas Eve.  We leave the traditional milk and cookies, and often a carrot for Rudolph. I guess the other eight reindeer go hungry. 🙁   This is a part of our Christmas tradition, so lets include it in the Christmas scrapbook!
Photo Ideas:
The milk and cookies
Your child leaving the treat for Santa
Be sure to include your Christmas tree or fireplace in the background
Your child checking on Santa's treat plate the next morning
Journaling Ideas:
What kind of treat do you leave for Santa?  Are the cookies homemade?
Do you leave a note? What does it say?
Is your child excited about leaving the treats?
Does your child check the next day to see if Santa ate his cookies?
Do you have memories of leaving treats for Santa when you were a child?
Are you planning to include Santa's milk and cookies on your scrapbook pages? What kind of cookies do you leave for the jolly old man?
Join us tomorrow for Day 16: Christmas Books