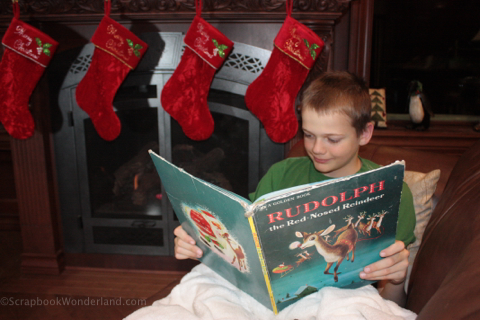 Day 16: Favourite Christmas Books
Our bookshelf has a section dedicated to Christmas books. On that shelf are a few family favourites, like the copy of Rudolph the Red Nosed Reindeer that belonged to my husband as a child, The Night Before Christmas (a classic!) and Mooseltoe by Margie Palatini and Henry Cole, an adorable rhyming story of a father moose trying to create a perfectly perfect Christmas. As these books are a special part of our Christmas experience they should definitely be included in our Christmas scrapbook.
Photo Ideas:
Photo of your child reading his/her favourite Christmas book
Photo of you reading to your child
Think about your photo location, is the background festive? Is it a common place for reading in your home?
Can you 'sneak' a photo without your child knowing to capture them 'in the moment'?
Photo of a stack of favourite Christmas books
Journaling Ideas:
Do you have any stories that you loved since you were a child?
Have you discovered a new favourite from your kids' books?
What book is everyone's favourite in your house? Does each person have their own favourite, or do you all like one special story?
Is it almost impossible to choose a favourite?
Have your choices changed over the years? What about your kids' choices?
Including your favourite Christmas books on your scrapbook pages is a wonderful way to capture the magic of Christmas. It is a way to tell your Christmas story. Are you going to include Christmas books on your scrapbook pages this season? Leave me a comment and tell me what your favourite Christmas book is.
Join us tomorrow for Day 17: Favourite Christmas Movies