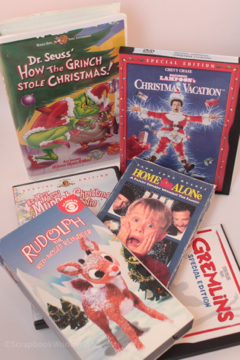 Day 17: Favourite Christmas Movies
Does your family watch a special Christmas movie every year? If I had to choose just one I'd say my favourite is the classic 1964 stop motion animation Rudolph the Red Nosed Reindeer. I always felt so bad for the poor misfit toys and I remember thinking that I could love an elephant with spots! Here's a few ideas to help you include your favourite Christmas movies in your scrapbook.
Photo Ideas:
A stack of your favourite Christmas movies
Your family cozied up by the TV
Journaling Ideas:
List each family members favourite movie
Make a list of ALL of your favourite Christmas movies
Do you watch the same movie every year?
Do you watch the movie on a certain day
Do you have a special "movie watching" tradition?
What is your favourite movie quote?
Describe what makes this movie so special
Do you have memories of a special movie from your childhood?
Are you going to capture the magic of your favourite Christmas movie(s) in your scrapbook this year? Leave me a comment sharing your favourite!
Join us tomorrow for Day 18: Favourite Christmas Music