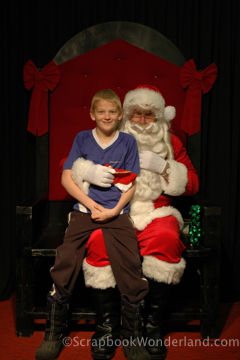 Day 3: The Santa Photo
It's a Christmas tradition. Dressing up the kids and taking them to the mall, or community centre where Santa makes his presence known with a "Ho, Ho, Ho!" The kids climb up on Santa's knee and share their Christmas wishes and are rewarded with a candy cane. Or… Mom tries to coerce her unwilling 2 year old onto Santa's knee, with the toddler crying and reaching for mommy.
One way or another you probably have a Santa photo or two to scrapbook! Don't worry whether or not it is the 'perfect' Santa photo, or a slightly different version, it will still be a Christmas memory to cherish.
Journaling options:
Describe your child's reaction to Santa.
Narrate the conversation your child had with Santa.
Divulge your child's Christmas Wish List.
Have your kids surprised you with their visit to Santa? Share your funniest/sweetest/most memorable Santa story in my comments!
Join us tomorrow for Day 4: Christmas Baking