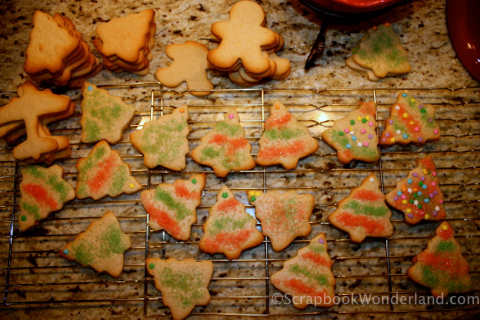 Day 4: Christmas Baking
Mmmm… Christmas baking.  Just thinking about the delicious treats of Christmas makes my mouth water.  Even if you are not someone who bakes a lot, I'll bet you make some kind of special treat for the holidays.  (If not, you can still scrapbook your favourite treats… and you could always cheat and 'fake' some baking photos 😉
Photo ideas:
Cookies baking in the oven. (Just open the door and take a quick snap!)
The cookies lined up on the counter.
One of the kids sneaking a cookie.  (This happens at your house too, right?)
Photos of your kids licking the spoon, or 'helping' in some other way.
Decorating the cookies.
Journaling ideas:
What are your favourite Christmas treats? Your kids' favourites?
Which treats do you miss from your childhood? Who made them? What made them so special?
Include your recipe on the page.
List the items you 'have to' bake every year.
What is THE treat you can't imagine not having at Christmas?  Is it a secret family recipe?  Share your favourites in the comments!
Join us tomorrow for Day 5: Christmas Candies