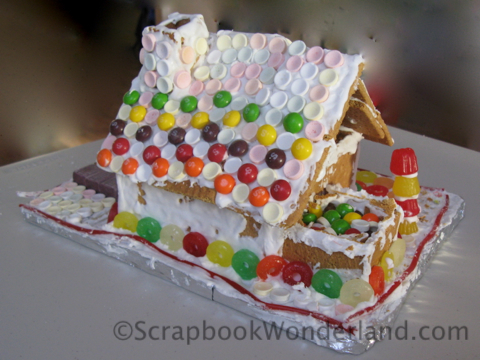 Day 2: The Gingerbread House
Gingerbread houses are a fun and sweet treat that are a Christmas specialty.  As if building them wasn't enough fun, you'll enjoy having it set up in the house, and you may sneak the occasional candy from the house or yard!  Even if you don't have kids there's nothing stopping you from creating your own gingerbread house. Invite a friend for twice the fun!  You don't even have to bake your own gingerbread for the house (although that does add an extra opportunity to scrapbook!), kits are readily available and you can always try the graham cracker house too!
Don't forget the camera!  You can capture photos of:
The 'before' photo of the candy.
Decorating the house.
A photo of you (or your kids) with the beautifully decorated house.
What kind of gingerbread house do you make?  Do you bake your own, use a kit, use graham crackers, or do you have another great way to make one?  (Hint: Your explanations make great journaling!!) Please share your construction advice in the comments!
Join us tomorrow for Day 3: Santa Photos