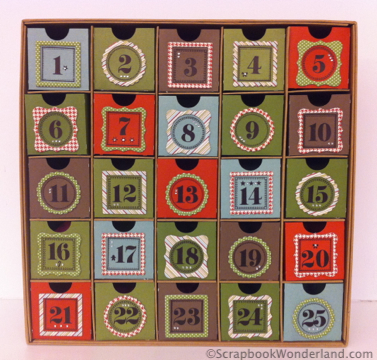 Day 1: The Advent Calendar
I LOVE advent calendars!  I love the ones you hide treasures in. I love the super-cool Lego ones.  I even love the ones that come with the little waxy piece of chocolate.  I remember having the chocolate ones as a kid, and how excited I was opening up one door every day until Christmas.
Do you have/use an advent calendar? Scrapbook it!
Photo ideas:
Your child (or you) opening the treasure!
The calendar.
The treasure!
Journaling ideas:
Describe the treasures.  If it's something you found, why did you choose it?
Share your child's reaction to the calendar.
Share your own reaction to the calendar… why do you still do it?
Reminisce about advent calendars from your childhood.
Do ALL of the Above!
Don't forget, a scrapbook without your story is simply a beautiful photo album.  Let's make yours a book of memories!
Leave me a comment telling me what kind of advent calendar you use.  Are you going to scrapbook it this year?
Join us tomorrow for Day 2: Gingerbread Houses