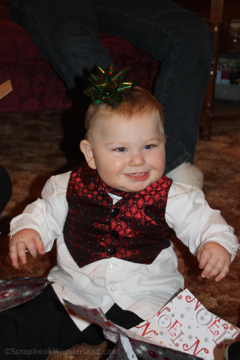 Day 25: Christmas Morning
The big finale! Christmas morning is when all of your planning, wrapping, and decorating pay off. The gifts will obviously take center stage, however it is the squeals of delight and the bright shining faces that will make it all worth it. As this is the main event of Christmas chances are good you've scrapbooked this before. Hopefully you'll pick up a few new ideas here to help capture the magic of Christmas morning on your scrapbook pages.
Photo Ideas:
The wrapping paper disaster zone
The excited faces of a child before they open a gift.
The gift reveal
The clock… just how early was Christmas morning at your house?
Assembling the presents… (some assembly is always required, right?)
Journaling Ideas:
Were the presents well received?
Were there any surprises?
What was your child's favourite present? Was it what you expected, or did they like the box more than the toy?
Timeline the morning activities, from "wake up" to "unwrapping gifts" to "breakfast"
Make a 'Gift List', what did everyone get?
Do you have any Christmas stories from your childhood that you can include?
Thanks for joining me for Scrapbooking Christmas: 25 Ways to Capture the Magic. I hope you took the photos you wanted/needed for your Christmas layouts. Which day was the most helpful for you? Did you complete all of the photo assignments?
If you missed the beginning of the Scrapbooking Christmas series start on Day 1: Advent Calendars
In January we will use our photos to make some beautiful layouts for our Christmas scrapbook!  Merry Christmas!