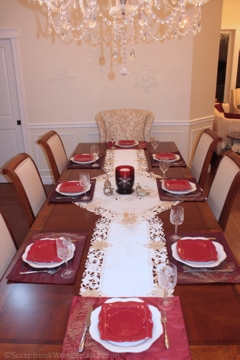 Day 23: the Christmas Dinner
Mmmm… turkey!  Turkey is my favourite part of a Christmas dinner. Have you included your Christmas meal in your scrapbook? Here's a few ideas to get you started.
Photo Ideas:
The turkey (or other main course!)
The table setting
Everyone sitting together for the meal
Journalling Ideas:
Use your menu
Include the guest list
What is your favourite part of the meal?
Does your mom make the best stuffing? Your aunt make the best cabbage rolls?  Share the highlights of the meal!
List each person's favourite item
What special preparations did you make for the meal?
Were there any special moments or stories shared?
I hope you will capture the magic of your Christmas meal on your scrapbook page!  Share your favourite part of the Christmas meal in the comments!
Join us tomorrow for Day 24: Christmas Eve