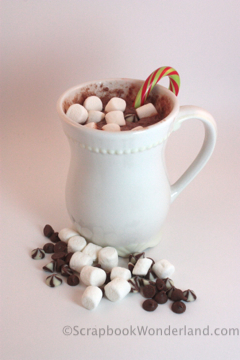 Day 6: Christmas Beverages
Christmas has its own special beverages that I always look forward to. I love to sit by the fire curled up with a good book and a mug of hot apple cider or hot chocolate. There are a lot of ways to include your favorite Christmas drinks on your scrapbook pages.
Christmas Drinks that might  be on your list:
hot chocolate
apple cider
egg nog
cranberry juice
coffee with a shot of Baileys
Photo Ideas:
Your favorite drinks
Family and friends enjoying them (try to play with your location)
Decorating the hot chocolate with marshmallows, whipped cream and sprinkles
Photos of you enjoying a hot chocolate when you are at an outdoor activity (skating, sledding, sleigh rides)
Journaling Ideas:
Talk about the places or activities where you enjoy your favorite Christmas drink
Describe your favorite drink and try to explain why you enjoy it
Share special memories that involve the drink
What is your favorite kind of Christmas beverage?  Do you love egg nog?  Does the thought of a hot cup of apple cider make you want to curl up by the fire with a good book?  Share your favorite in the comments!
Join us tomorrow for Day 7: Family Traditions