Planes, trains and automobiles… but don't forget boats! What forms of transportation have made their way into your scrapbooks and onto your layouts?
Whether boats are part of your transportation or purely for pleasure you'll want to include them in your scrapbooking.
This month is LOAD216 Around the World in 29 Days, and the prompts are all travel-related. That doesn't mean that you have to scrapbook travel photos or vacations.
Day 23 is talking about transportation, specifically boats. What boat-related stories are waiting to be told?
Day 23 – Transportation: Boats
Our only transportation by boat around here is for fun and recreation! I used the journaling to link my childhood memories to my children's. I was able to share a lot of special moments by using a dozen small photos on this grid-based layout. Yes, that is my 65+ year old father zipping around on waterskis, what an example of living life to the fullest.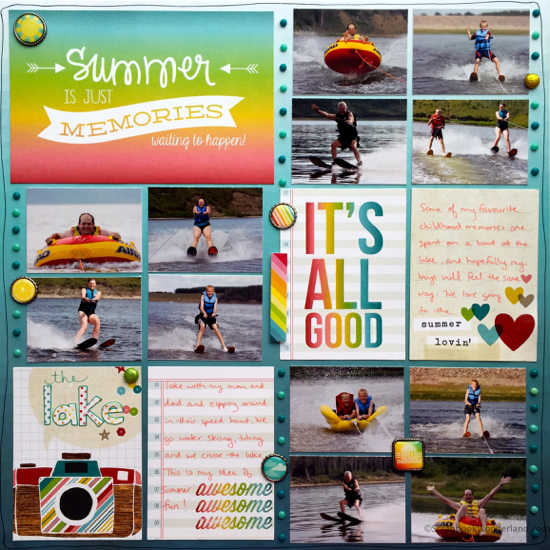 Journaling:
Some of my favourite childhood memories are spent on a boat at the lake, and hopefully my boys will fell the same way. We love going to the lake with my mom and dad and zipping around in their speed boat. We go water skiing, tubing and we cruise the lake. This is my idea of summer fun!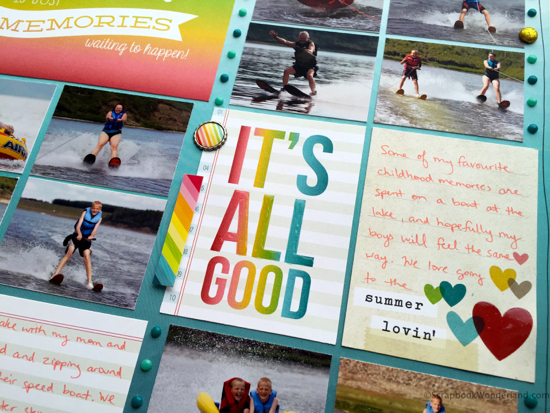 Fun details:
Notice the bright colours of the paper pack that are a perfect complement to the bright colours in the photos.
This page looks a bit like a pocket page, right? It's not, but it does USE pocket cards!
The enamel dots are a fun and playful monochromatic addition to the page. Being the same colour as the background they add interest without competing for attention.
This layout has 12 photos! It's perfect for showcasing lots of special little moments.
When adding photos try to think of where they will fit best on the layout. It is preferable to have people facing towards the centre of the page.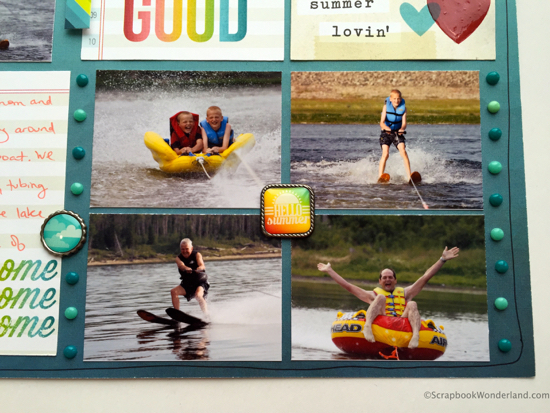 I hope you'll be inspired to scrapbooking your boat-related memories and get them into your scrapbooks!
Have a wonderful day!
Alice.