Do you set resolutions, goals or intentions for the year? If so, put your scrapbooking supplies to use to help you reach those goals! In this article I'll share 5 ways to get you on track!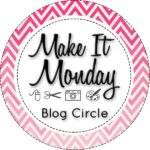 Welcome to the Make it Monday Blog Circle! You may have arrived from Artful Adventures where Kristie Sloan had a fabulous pocket to hold your New Year's goals on her layout. At the end of this post I'll share your next stop on the blog circle.
Setting goals and staying on track with them can be easier said than done. Put your scrapbook supplies to use and you will be extra motivated to stay on task and reach your goals.
Here's 5 ways you can use your scrappy supplies to help you reach your goals this year!
1. Set Yourself Up for Success
Use charts and planning sheets (and make them look great) to set yourself up for success. These awesome goal setting charts are prettier and more enticing to use now that I've added strips of colourful washi tape from my scrapbook stash. Use this trick to add a little pizzazz to simple pages. Don't they just make you smile? 🙂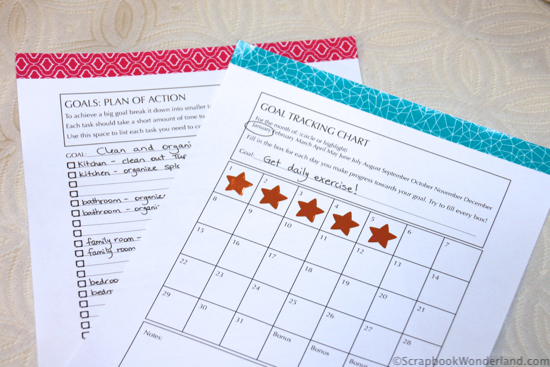 Would you like a copy of these goal planning pages? Get your FREE copy HERE. (No sign up required… it's truly Free!)
2. Make a Pretty Planner
Planners. Using a planner can be very useful when you are working towards a goal, unfortunately many of them are boring and dare I say, ugly! Use your scrappy supplies to make them awesome! Add stamps, washi tape and other embellishments to your planner so you'll actually WANT to use it!
See the arrow tabs pointing to important details in my planner? They are washi tape! I fold the one end over onto itself and cut the other end into a point. Now I have an easily moveable washi tape pointer! Fun and easy!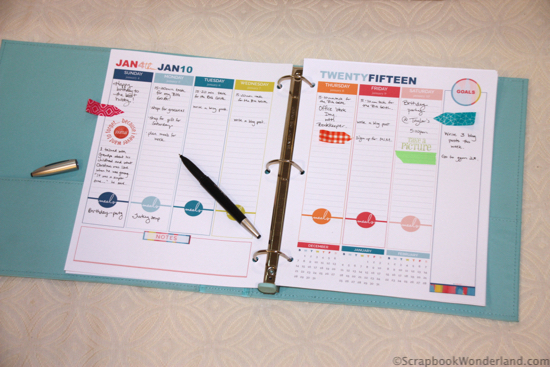 This planner is gorgeous isn't it? Think you'd love it too? It's from Jennifer Jones of iHeartOrganizing. You can purchase it from her Etsy shop HERE. (P.S. This is NOT an affiliate link… I just love her printables and thought you might too!)
3. Give Yourself Motivational Reminders
Motivational reminders can help to keep you on track. Leave a little note in places that will remind you to get your tasks done to reach your goal. You can use sticky notes, or washi tape. Bonus idea: Print off a gorgeous and inspiring image from Pinterest… I'm sure you have a few of those, right? 😉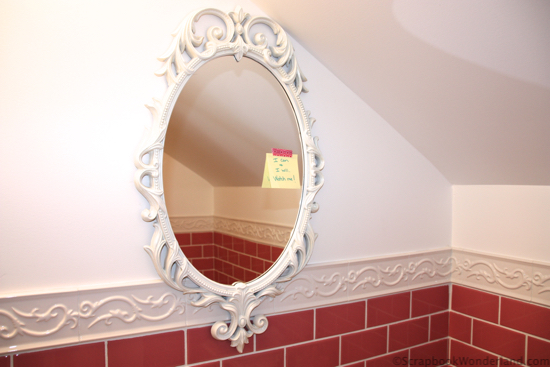 Want to see what I have on Pinterest? Check out my boards HERE.
4. Track Your Progress with Photos
Use photos to motivate yourself and to truly see the progress you are making towards reaching your goal. This works for all kinds of goals…  fitness, organizing and more.
(Yes, this is a REAL before photo… don't judge!!!)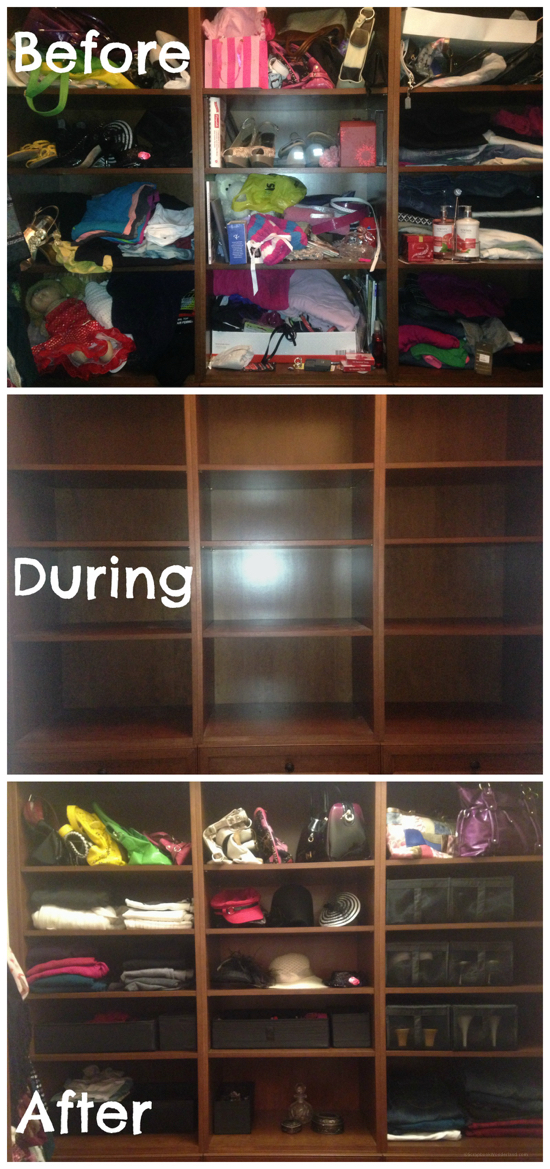 P.S. Did you spot my Cabbage Patch? Awesome, right? 😉
5. Scrapbook Your Goals
Connect more with your goal and share why it is important to you or explain your plan to achieve it on a scrapbook layout. The more important a goal is to you the more motivated you will be to reach it.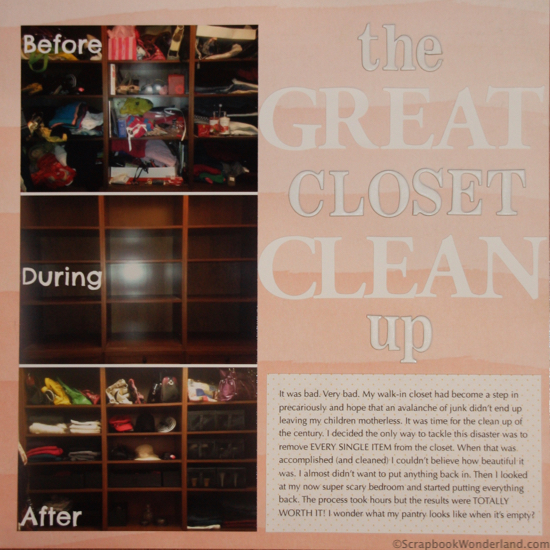 Are you ready to put those scrappy supplies to good use? Consider them your personal support system to help you reach your goals. Now go make your dreams into a reality!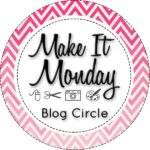 Your next stop on the Make it Monday blog circle will take you to Clicky Chick Creates where Connie is digging deep resolutions and goals using her planning skills! Click here to HOP.
If you are new to the Scrapbook Wonderland site you should START HERE to see all the best stuff!
If you love what you see here you should sign up for the Scrapbook Wonderland email list. You'll get all the best info and don't have to worry about spam… I hate it as much as you! Sign up HERE.
Let your creativity shine… and get scrapping!
Alice.