Getting organized can be tough!
If you've struggled with setting goals and reaching them you might need a fresh approach. Whether your goal is scrapbooking, health, relationship or finance related this approach to setting goals is reliable and will put you on the path to success!
Scrapbooking supplies come in handy when planning goals and working to achieve them. See this post with 5 ways to use your scrappy supplies for goal setting.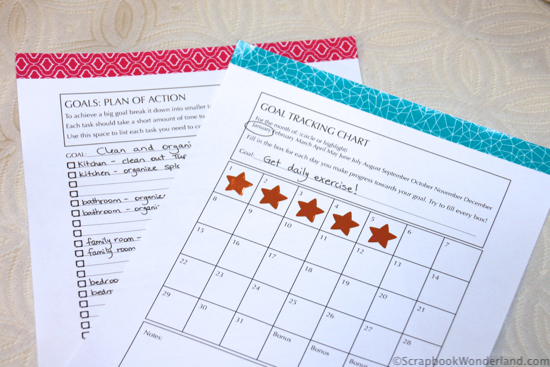 When it comes to setting goals it's good to have tools that help you stay organized and keep on track.
When I searched for simple, easy to follow goal planning sheets I couldn't find anything I liked. Everything had tons of colour and embellishment. I prefer to save my printer ink for printing photos, so I created these simple, black and white planning sheets.
Want prettier pages? Add a strip of washi tape to the top and bottom of the papers. It's a great way to use some of the washi tape you've been hoarding, save your printer inks, plus you'll get to decide what colours YOU like best!
Here's the FREE Goal Setting and Organization pages you can download now.
**To download files: right click/control click the links under the file images below and select 'download linked file'.
Plan of Action
To achieve a big goal break it down into smaller tasks that are easy to accomplish. Each task should take a short amount of time to complete. (30 min. or less) Use this sheet to list each task you'll need to complete to reach your goal.
Goal Tracking Chart
Yes, it's a star chart for adults! Every day you take a small step, or complete one task towards your goal give yourself a star! (You can use stickers or stamps, just make it fun and easy!)
To Do List
When you are working towards a big goal it becomes your Priority Goal. Pick one task from your Plan of Action and add it to your daily to-do list. Do this first, if possible! Then you can fill out any other items on your to-do list. NOTE: This page is designed to be cut in half from an 8-1/2x 11 and will print TWO to-do lists on it. See the example!
GOAL: Scrapbook More!
If one of your goals this year is to scrapbook more then you should check out LOAD 215. Last year I scrapbooked over 100 pages and more than half of those were because of LOAD events! Click here to view more details. Use the code READ before January 10th to save $10! (affiliate link)
Now, go make plans, set some goals and do some scrapbooking!
Alice.