Our December Scrapbook Improv was a blast!
I loved scrapbooking with gals from around the world. Scrapbook Improv is a great way to connect with other scrappers and catch up on some scrapbooking! In just under two hours I was able to complete 2 layouts, a traditional 12×12 layout and a two-page pocket layout. I used two kits, both from Gossamer Blue, the December main kit and life pages kit.
Here's the replay of the video. I'd suggest pulling out your scrappy supplies and scrapping along with me as you watch the replay.
Here's the layout I created using the main kit from Gossamer Blue: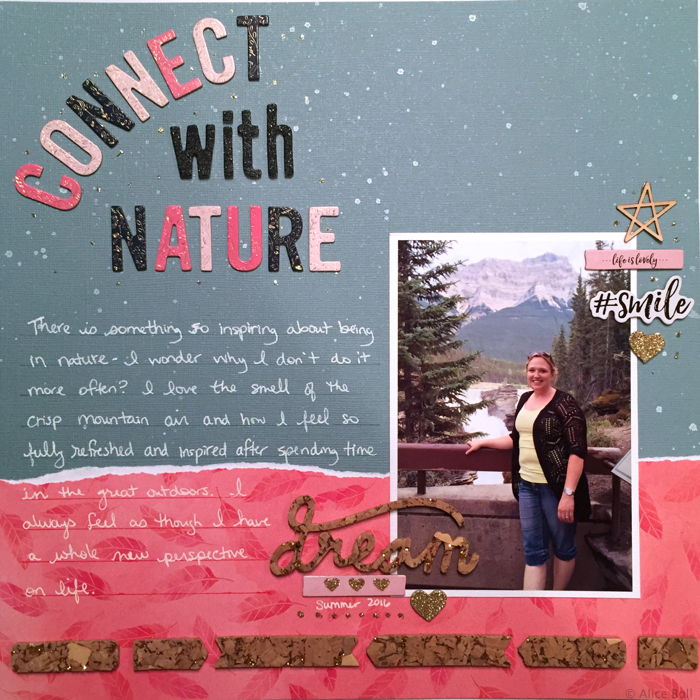 I was very inspired by this feather patterned paper from Pink Paislee. I thought it would be fun to go with a retro tearing technique. I chose to tear the patterned paper in a way that the white edging would be exposed. I really wanted to add a little extra white to this layout, that's also why I chose to matte the photo.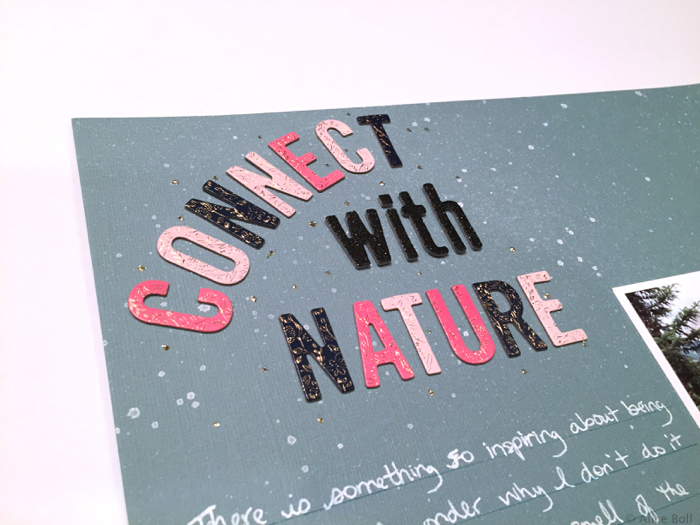 I used a sewing ruler to create the curved title. If you've never used one, they are a flexible plastic that has metal through the centre so it can hold a shape. If you skip to 34:15 in the video you'll be able to see what it is and how I used it for creating the title curve.
I also added a bit more white to the page by misting white Dylusions ink onto the Bazzill cardstock and I used a white gel pen to complete my journaling.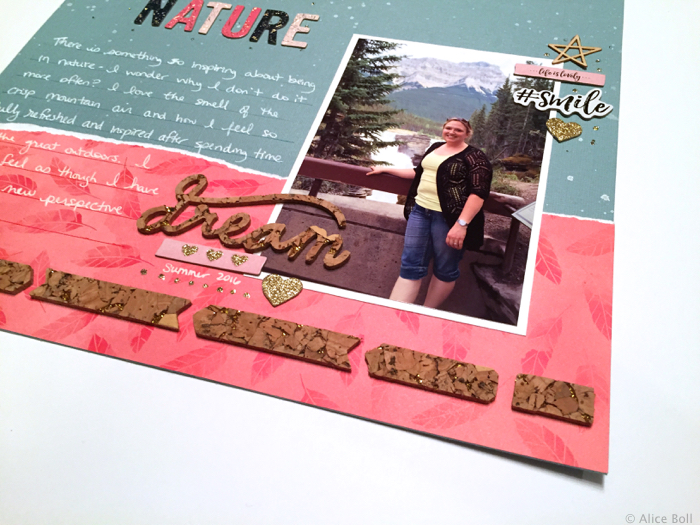 I thought the cork embellishments in this kit were so cool as they had little bits of gold fleck in the indented parts of the cork. Those are from the Pink Paislee Moonstruck collection. Some of the embellishments are from the Golden Days ephemera pack by Amber Labau for Fancy Pants.
Using the life pages kit from Gossamer Blue: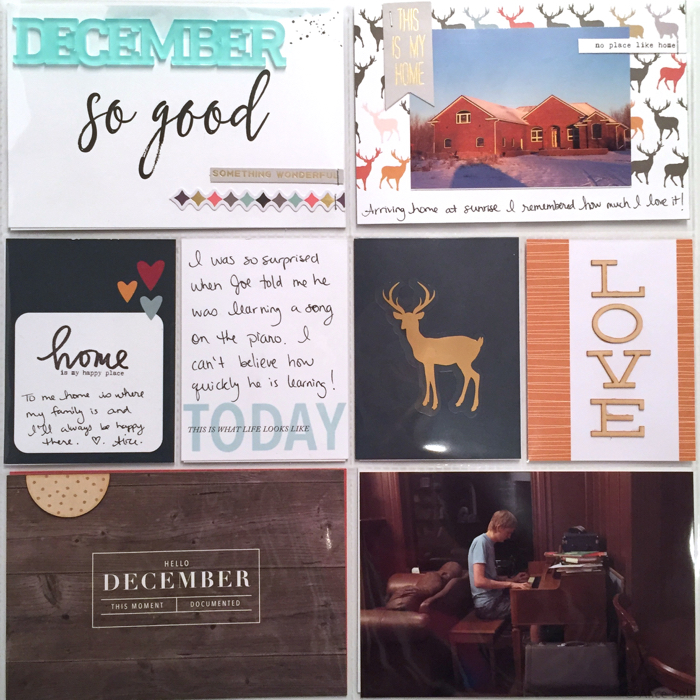 I knew this was going to be a layout about December for sure when I saw the gorgeous acrylic "December" word. It's a beautiful icy blue colour and I'd love to have a whole collections of words made from acrylic like this.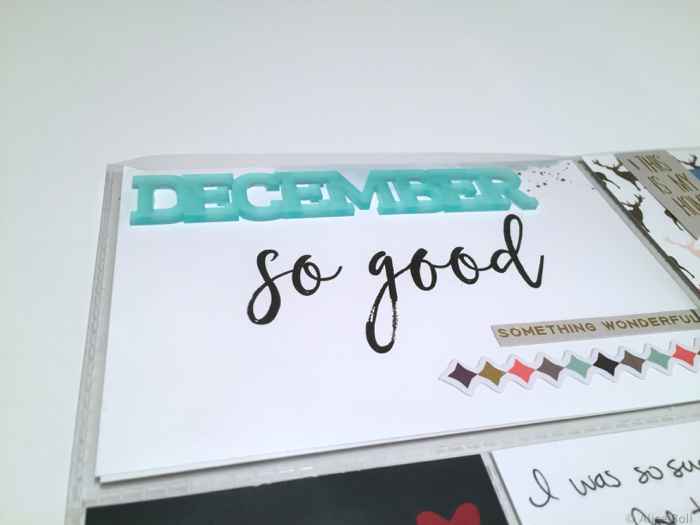 I chose to use many deer-themed embellishments from the kit as we often have deer in our backyard. I also thought the wooden embellishments were a perfect bit of nature for this layout.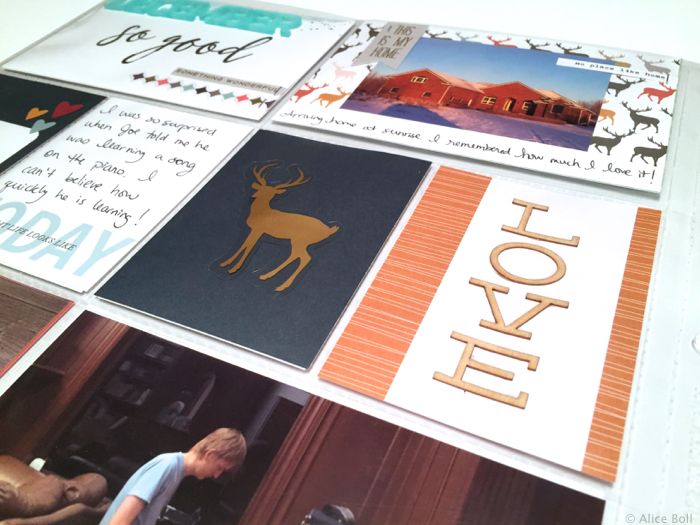 I made this into a double page layout.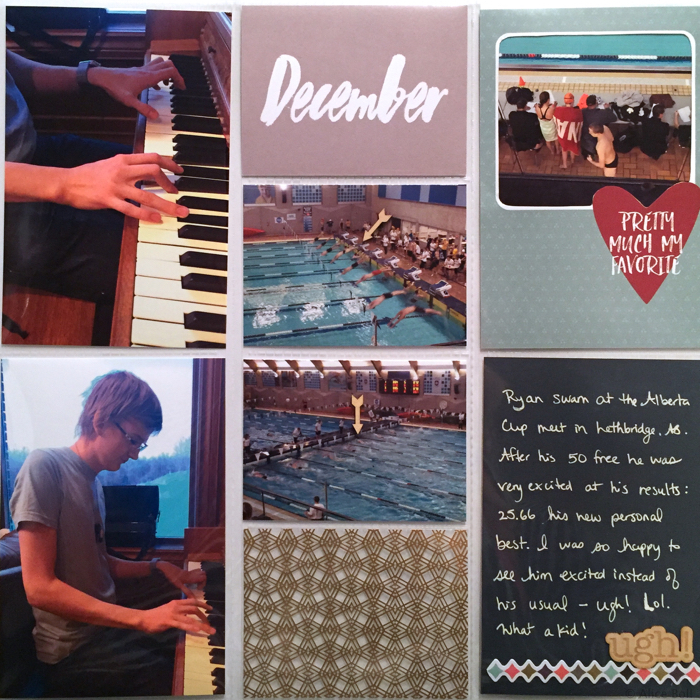 I cut the pocket card in the top left so I could slip a photo in from behind.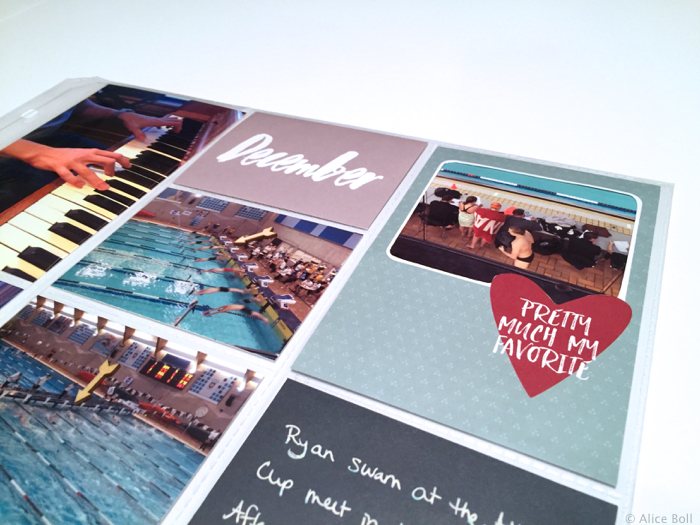 And although it's something I love when I see it in other people's pocket albums I often forget to leave a see-through window on my page, so I was really happy to have the gold-detailed card to slip into a pocket on this page.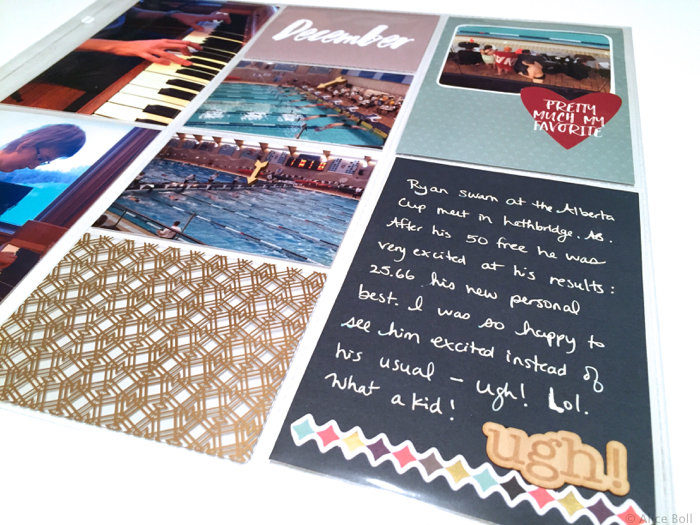 I love that the Gossamer Blue life pages kit included a stamp set and found the perfect sentiment to stamp on my page.
I laughed when I saw the wood veneer that said, "ugh!" in the kit, but it was funny because it found a perfect home on this page.
Did you know? When you sign up for your Gossamer Blue subscription you'll also receive a monthly download with cut files and printables. Just a little perk to having your subscription! I'll try to remember to use some of those elements next month.
Speaking of next month…  want to join me next month? Sign up for the Scrapbook Wonderland email list so you'll receive info about the next Scrapbook Improv. Every month we have a draw and one lucky winner receives a Life Pages Kit from Gossamer Blue, it could be you so join me next time!
Hope to see you next time and happy scrapping!
Alice.